Texas Officer Charged With Murder For Shooting Jonathan Price As He Walked Away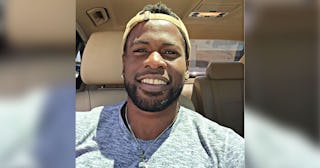 Jonathan Price/Facebook
Jonathan Price is the latest unarmed Black man killed by a white police officer
Another unarmed Black man has been killed at the hands of a white police officer. A Texas police officer has been charged with murder in the shooting of 31-year-old Jonathan Price, who was walking away from him on Saturday night.
Wolfe City officer Shaun Lucas responded to a call about a possible fight on Saturday night, the Texas Department of Public Safety (DPS) said. Wolfe City is about 70 miles northeast of Dallas. Lucas allegedly arrived at the scene and used his taser on Price, who was walking away. Lucas then fired his weapon, hitting Price, the statement said. Price died at a hospital, according to the statement. Price's family says he was unarmed.
"The preliminary investigation indicates that the actions of Officer Lucas were not (objectively) reasonable," a DPS statement said.
Price was trying to break up a domestic dispute and was "never violent before Lucas shot him," said S. Lee Merritt, the attorney for Price's family. "The situation was resolved before law enforcement arrived, according to witnesses. Why this officer still felt the need to tase and shoot Jonathan is beyond comprehension."
"Officer Lucas made contact with a man, later identified as 31-year-old Jonathan Price, who was reportedly involved in the disturbance. Officer Lucas attempted to detain Price, who resisted in a non-threatening posture and began walking away," the DPS continued. A statement from the Texas Rangers confirms this.
The 22-year-old police officer had been with the Wolfe City Police Department for a little less than six months when the shooting occurred, the Associated Press reports. His prior law enforcement experience had been working as a jailer with the Hunt County Sheriff's Office for about five months.
"He helped everybody in his community and had a big heart and spirit. Whatever he wants to strive for, he tried to get out there and do it," Price's mom, Marcella Louis, said of her late son.
Former Major League Baseball third baseman Will Middlebrooks, who grew up with Price, said on Facebook: "I'm sick. I'm heartbroken… and I'm furious." Middlebrooks started a GoFund Me for Price's family to help with funeral and legal expenses. "Jonathan was a community leader and mentor, who was killed while trying to break up a domestic dispute. Your outreach and aid have made it possible to give Jonathan the memorial he deserves, so we can forever honor his memory," the page said in part.
Lucas was booked into the Hunt County Jail on Monday night, the Texas Rangers said in a statement released by the Texas Department of Public Safety. Bail has been set at $1 million.