Jonathan Van Ness Opens Up For The First Time About Living With HIV
by Leah Groth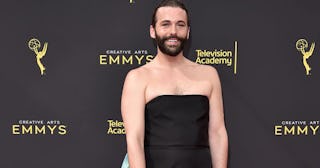 Axelle/Bauer-Griffin/FilmMagic
Jonathan Van Ness talks HIV diagnosis: "These are issues that need to be talked about"
Most of us know Jonathan Van Ness from the hit Netflix show Queer Eye — a self-described "effervescent, gregarious majestic center-part-blow-dry cotton-candy figure-skating queen" who can rock a red carpet gown harder than a starlet. However, in a new interview with the New York Times centered around the forthcoming release of his memoir, Over the Top: A Raw Journey to Self-Love, the 32-year-old gives us a glimpse into his life, revealing that he is H.I.V. positive.
"It's hard for me to be as open as I want to be when there are certain things I haven't shared publicly," Van Ness confessed in the interview. "These are issues that need to be talked about."
In his early teens, Van Ness was sexually abused. "For a lot of people who are survivors of sexual assault at a young age, we have a lot of compounded trauma," he said. High school wasn't easy for him. "I was too fat, too femme, too loud and too unlovable," he added. He started spending hours a day in AOL chat rooms with older men, even meeting up with them for sex.
The next decade or so, he struggled with an addiction to hard drugs, sex, and even food. At 25-years-old, when he was working as a hairdresser, he started experiencing flu-like symptoms, including fainting. One day he walked into Planned Parenthood where he tested positive to H.I.V. "That day was just as devastating as you would think it would be," he writes in the new memoir out September 24.
Shortly after he quit hard drugs and moved to Los Angeles, his career in entertainment took off when his Emmy-nominated parody series Gay of Thrones premiered in 2013. Now healthy, he hopes to blast misconceptions about being H.I.V. positive, describing himself as an out-and-proud "member of the beautiful H.I.V.-positive community."
When he was first cast on the reboot in 2016, he was reluctant to talk about his diagnosis. "When Queer Eye came out, it was really difficult because I was like, 'Do I want to talk about my status?," he said. "And then I was like, 'The Trump administration has done everything they can do to have the stigmatization of the L.G.B.T. community thrive around me.'" Because of this, he said, "I do feel the need to talk about this."
He offers up another reason why he hasn't spoken up about his past on the show, and we get it. "These are all difficult subjects to talk about on a makeover show about hair and makeup," he said. "That doesn't mean Queer Eye is less valid, but I want people to realize you're never too broken to be fixed."
The public response to this new interview has been so supportive. He is an inspiration to so many of us, regardless of gender, sexual identity, or experience with H.I.V.
Thank you Jonathan Van Ness for being you and trusting the world with your truth. By coming out about your H.I.V status you are going to help so many people, not just those living with H.I.V., but in educating the rest of the world about it too.