An Update On Josh Duggar — This Man's Legal Team Has Zero Shame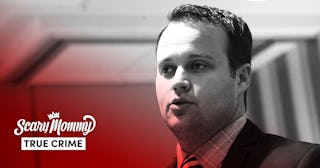 Scary Mommy and Kris Connor/Getty
Josh Duggar has gotten himself into quite the pickle, and his legal team's desperate grabs for loopholes are winning him approximately zero sympathy with the Arkansas courts.
Sorry, Joshy.
The most infamous and reviled of the "quiverfull" of Duggar children from the show "19 Kids and Counting" on TLC has been embroiled in an ongoing case that began, in a legal sense, in November of 2019 when Josh's Arkansas used car dealership was raided by Homeland Security. At the time, authorities did not clarify whether Josh was the focus of that investigation. We now know that he was the singular focus.
On April 29 of this year, Homeland Security again showed up and this time arrested Duggar. The following day, Duggar pleaded not guilty to receiving and possessing child pornography. According to authorities, Duggar's computer contained over 200 images of child pornography.
A Brief Recap: Josh Duggar As The Poster Child For Hypocritical Trash
The child pornography charges are the worst of what we know about Josh Duggar, but definitely not the least. Duggar has made headlines numerous times, going back as early as 2006 when it became known that he had "inappropriately touched" five young girls, four of whom were his sisters. His parents sent him away to Bible Hypocrisy Camp, aka the Institute in Basic Life Principles Training Center, and, I guess, figured he was "cured." The center itself has been enmeshed in numerous scandals, but I suppose when you're trying to discipline your predatorial, pedophilic teenager without drawing any attention to yourselves, you take what you can get. I'm not sure that's what Jesus would do, though.
Then there was the data hack of Ashley Madison's servers in 2015 that gave the world a peek into Duggar's extracurricular-slash-extramarital interests: "Experimenting with Sex Toys," "One-Night Stands," "Good With Your Hands," "Bubble Bath for 2," "Someone I Can Teach," and "Someone Who Can Teach Me," among other things, none of which are bad, but also ostensibly none of which were with his wife.
And that all happened while Josh Duggar was serving as executive director of the Family Research Council's legislative action branch.
So, yeah. Josh Duggar is human garbage.
Josh Duggar's Latest Frantic Attempt To Wriggle His Pasty, Slimy Body Free From The Clutches Of Accountability
Currently, Duggar's attorneys are digging for loopholes, trying to get his case thrown out on a technicality or four. At the end of September, they filed four motions to suppress specific damning evidence, accused law enforcement of mishandling the investigation, and requested the case be dismissed. Some of the pornography that investigators say they found on Josh Duggar's computer depicts the sexual abuse of children younger than 12. No wonder his attorneys are trying to free him via the side door.
One of the accusations Duggar's attorneys made is that since investigators confiscated Duggar's cellphone during the raid at the used car dealership in November 2019, they prevented him from calling his lawyer, and then proceeded to interview him without his lawyer present.
Another motion had to do with photographs investigators took of Duggar's hands and feet in April of 2021 when he self-surrendered to law enforcement, claiming that the photos shouldn't be allowed to be presented as evidence because they violated Duggar's 4th Amendment rights.
U.S. District Judge Timothy L. Brooks Isn't Having Any Of It
On Wednesday, Oct. 13, Judge Brooks denied all four motions, filing a detailed memo explaining why. He noted that in 2019 when federal agents raided Duggar's car dealership, they informed Duggar that he was free to leave if he wished. He was not detained against his will, and all statements he made were made willingly. Duggar even signed a form acknowledging that he understood he was waiving his right to counsel. He further clarified that he understood exactly what that meant, because he told agents prior to questioning that he "may not answer everything."
"It is also undisputed that the passenger-side door next to where Mr. Duggar was seated remained unlocked throughout the interview," Brooks wrote in his filing. "The Court therefore finds that Mr. Duggar was not restrained, and this factor weighs in the Government's favor."
Judge Brooks also pointed out that Duggar's 4th Amendment rights were not violated when the pictures of his hands and feet were taken, because he consented to being photographed. The judge categorically shot down every other point Duggar's attorneys tried to make, even using the word "frivolous." We love to see it.
According to a source that spoke to People, Josh's wife Anna, now pregnant with the couple's seventh child, continues to stand by her husband's side and believe in his innocence.
No doubt Duggar's attorneys will continue to lube Josh up and try to squish him out of the court system via a narrow loophole. But, for those of us who have been sexually assaulted, especially as children, we love to see the court system not taking any shit from a rich white man and his expensive attorneys. If convicted, Duggar faces up to 20 years in prison and fines of up to $250,000 on each count. He has pleaded not guilty.