It Took A Judge's Order To Get Doctors Into Migrant Detention Camps Housing Children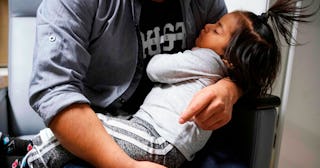 Paul Ratje / AFP
A judge has ordered that medical professionals be allowed to assess migrant camps for inhuman conditions
It's been months of headlines about inhumane conditions at migrant camps at the U.S.'s southern border, which some experts have called "torture facilities" or said qualify as concentration camps. The Trump Administration's particularly cruel immigration policies have forced families to be separated from one another, and illegally detained children for weeks or even months in camps. Kids there are dying — at least five of them so far this year — as members of the administration argue that they shouldn't have to provide detained kids with things like toothbrushes and soap. It's truly horrifying and heartbreaking, and leaves any empathetic person feeling completely hopeless and powerless.
Now, though, there's a small shred of hope that things might get better for families and children in detention centers. U.S. District Judge Dolly Gee of California's Central District ordered on Friday that doctors and health inspectors be granted access to detention facilities so they can independently ensure the government addresses the inhumane conditions there like it's said it will. Judge Gee gave the Trump administration until July 12, two weeks from the order, to report back on what it has done so far to make migrant detention centers more livable and safe.
The order comes after a group of lawyers filed a restraining order asking that the Trump administration be held in contempt of court for taking no steps toward fixing the deplorable conditions in camps along the southern border.
"Children are held for weeks in deplorable conditions, without access to soap, clean water, showers, clean clothing, toilets, toothbrushes, adequate nutrition or adequate sleep," the court filing read. "The children, including infants and expectant mothers, are dirty, cold, hungry and sleep-deprived."
There have been stories that have emerged about kids in these camps saying they're constantly hungry because they aren't given enough to eat. Kids as young as 7 or 8 are sleep-deprived because it's their job to care for toddlers and infants in the camps. This is truly an atrocious violation of human rights that the U.S. will be answering for in the years to come, but at least now, people with medical training will be allowed to assess the safety of the facilities and hold the government accountable. We're still caging children for political reasons, but maybe, hopefully, no more of those children will die.
It's heart-wrenching that it took a judge's order to allow medical professionals into facilities where children are literally dying. But it's a step, and it's in the right direction. We elected the monster who is causing this to happen, and now we have to do what we can to protect these kids (and their families) while the case works through the courts.