There's A New Netflix Show That Parents Will Love As Much As Their Kids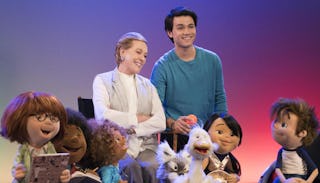 Image via Julie's Greenroom/Netflix
"Julie's Greenroom" is a show you'll happily watch with your kids
We all grew up watching Julie Andrews. She's a legend; our Mary Poppins, our Maria von Trapp, our Queen Clarisse. My kids and I watch these movies on the regular, so imagine my joy (and subsequent nervous breakdown) when I found out I'd get to meet her in person to discuss her new Netflix kid's show.
It was kind of a big deal, and so is this fantastic show that you'll actually want to watch with your kids.
Over tea and cookies (yes, I had tea and cookies with Mary Poppins, no, I didn't try to make her sing "A Spoonful of Sugar" with me, but I came close), we talked about what made Andrews decide to create and star in Julie's Greenroom, a collaboration with her daughter Emma Walton Hamilton, who helped write and produce.
The show, available today on Netflix, was a long time coming. "I've always wanted to do a show like this," Andrews said. "I've always felt it could only contribute and give kids some alternate thing to watch that wasn't MTV."
"Life got in the way and eventually, the wonderful Muppets came along and my relationship with the Henson family has long been very pleasant," Andrews explained. "They said to me one day, 'Would you love to do something in the arts?' and I said yes, that I would sign on to immediately."
And so she did, along with her daughter, who has practical experience with their subject matter. "I ran a theater for 17 years and did all the young audience programming there. I was basically Ms. Julie," Hamilton said, referring to the name of Andrews' character in the show.
"Ms. Julie" runs a regional theater company and teaches a group of children (who happen to be Jim Henson puppets) about the ins and outs of the stage. Some celebrity guests featured in the 13 episodes include Alec Baldwin, Idina Menzel, Ellie Kemper, David Hyde Pierce and Carol Burnett. Each episode focuses on a specific aspect of theater such as writing, acting, improv, dance and costume.
The show's aim is to introduce theater to children at a time when school budget cuts to arts programs are rampant. "The earlier we can reach kids with the arts, the more comfortable they'll feel and the more accessible it will be for them," said Hamilton. They hope to spark something in children and if it leads them down the path to getting involved in the arts, they'll be thrilled. "If any one of them does that, we've got it made," beamed Andrews.
Though the goal was to help kids gain an interest in theater, they still wanted to be child-like in their approach. "Trying to make it fun, trying not to preach too much, but to just gently invite them in and give them some wonder about it," said Andrews.
Along with the educational aspect, the show's also notable for its efforts at inclusion. "We wanted it to be as inclusive as possible so every kid could see themselves in one of these kids," said Hamilton. The cast includes culturally diverse characters as well as one puppet in a wheelchair, which is casually addressed and explained in the first episode.
Their advice to parents wanting to introduce the arts to their kids, aside from tuning in to "Julie's Greenroom," is simple. "Listen to what they think would turn them on the most, because they want to try everything as kids," said Andrews. "Watch your individual child for the thing that sparks their imagination," echoes Hamilton. "And supply it!" adds Andrews.
At the end of our conversation, I had the honor of hearing firsthand what got Andrews herself interested in theater as a child. It turns out, a rocky relationship with her stepfather, whom she describes as "a fine tenor," was what led to the discovery of her legendary voice. "During the war, my school closed because of bonds and whatnot, and it sounds jokey, but in an effort to keep me quiet and maybe to help us bond, my stepfather started to give me singing lessons. He discovered I had a freak kid's voice that could go quite high, and quickly realized I should be taken to somebody very good, and as soon as possible."
Andrews says it was "great good fortune" that got her involved in the arts, and in realizing not every child has that advantage, "Julie's Greenroom" was born. "I was the lucky one," she says.
And so are we that she's shared her talents with us all these years and is now sharing them with our kids.
You can check out "Julie's Greenroom" today on Netflix.
This article was originally published on