'Empire' Star Jussie Smollett Beaten In Homophobic, Racist Attack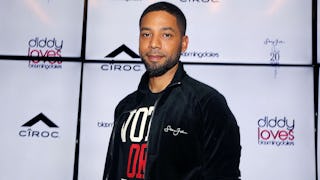 Image via Shareif Ziyadat/Contributor/Getty Images
The actor is now recovering from a brutal assault – his attackers are at large
Jussie Smollett, the 36-year-old Empire star, has been discharged from a Chicago hospital after a violent assault that police are investigating as a hate crime.
According to the Chicago Police Department, "Overnight, the Chicago Police Department received a report of a possible racially-charged assault and battery involving a cast member of the television show Empire. Given the severity of the allegations, we are taking this investigation very seriously and treating it as a possible hate crime. Detectives are currently working to gather video, identify potential witnesses and establish an investigative timeline."
The police statement also added that they were actively looking for information and tips:
"The victim is fully cooperating with investigators and we ask anyone with information about this incident to contact Area Central Detectives at 312-747-8382 or report it anonymously to www.cpdtip.com."
TMZ had more information to share on the incident, though it is hasn't been verified by authorities. They reported that Smollett went out at about 2 a.m. and got a sandwich from Subway. As he was leaving, he heard someone shout, "Aren't you that f***ot 'Empire' n*****?"
The two men, which were described as white and wearing ski masks, then beat the actor though he fought back, fracturing a rib. They then put a rope around his neck and poured bleach on him.
"This is MAGA country," they allegedly yelled as they walked away.
He admitted himself to Northwestern Memorial Hospital, according to TMZ, and was released later on Tuesday.
The Grape Juice is reporting that the actor received threatening hate mail a week ago, and have a picture of the letter, which seems to say, "You will die black f*g" and "MAGA" – though the source has not been verified.
If the letter is valid and the TMZ report of events are true, it seems that the attack was absolutely a premeditated and a homophobic, racist hate crime.
Smollett, according to his Instagram account, arrived in Chicago on Monday.
https://www.instagram.com/p/BtNZ1TIBL3-/
Smollett is known primarily for his role as musician Jamal Lyon in the FOX drama Empire, though he's also known for his childhood roles in movies like The Mighty Ducks and North, as well as his more recent movie roles in Alien: Covenant and Marshall.
Smollett came out as gay on the Ellen DeGeneres show in 2015, after his character on Empire also revealed he was gay.
Since then he has been open about his orientation and vocal about subjects like, civil rights, gay rights, racism and homophobia.
"I am told so many times that I should not walk truly in my blackness," he said in a 2016 interview with Attitude. "That I should not walk truly in my sexuality, I should not walk truly in who I am. I say thanks but no thanks, f**k you and goodbye. I honestly think that me being myself has actually helped my career move forward."