Justin Timberlake Finally Apologizes To Britney And Janet. Too Late, Dude
by Julie Scagell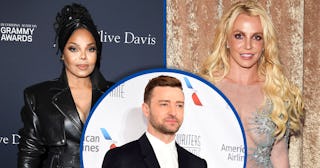 Steve Granitz/WireImage/Jamie McCarthy/FilmMagic/Kevin Mazur/WireImageGetty
Justin Timberlake took to Instagram with a very late apology for Britney Spears and Janet Jackson
Justin Timberlake finally broke his silence amid continued discussions that he, and many others, failed Britney Spears after The New York Times documentary, Framing Britney Spears, aired. Not only is he apologizing to Britney, but he also added Janet Jackson into the mix after the famed "wardrobe malfunction" during Super Bowl XXXVIII. Unfortunately, it's a bit too little too late.
"I've seen the messages, tags, comments, and concerns and I want to respond," the singer and actor wrote on Instagram. "I am deeply sorry for the times in my life where my actions contributed to the problem, where I spoke out of turn, or did not speak up for what was right. I understand that I fell short in these moments and in many others and benefited from a system that condones misogyny and racism."
Timberlake continued: "I specifically want to apologize to Britney Spears and Janet Jackson both individually, because I care for and respect these women and I know I failed." One would think if he respected them so much this apology would've come long ago and not as a result of Britney's story being highlighted in the media recently.
The documentary shows how Spears was shamed for the "suggestive" nature of her lyrics, her choice in men, and blamed her for Timberlake's broken heart as he insinuated she cheated on him. All of the negative press spiraled out of control, leaving Spears, a young mother of two, publicly humiliated by many powerful men in Hollywood.
Timberlake went on to talk about the industry as a whole and how it contributes to white male privilege. "The industry is flawed. It sets men, especially white men, up for success. It's designed this way," he wrote. "As a man in a privileged position I have to be vocal about this … I have not been perfect in navigating all of this throughout my career. I know this apology is a first step and doesn't absolve the past."
Spears and Timberlake went public in 1999 as Britney's "Baby One More Time" was skyrocketing and Timberlake made his way up the charts with the boy band NSYNC. When they broke up, he went on a radio show and bragged about taking Britney's virginity, something she'd previously denied, saying, "OK, yeah I did it!"
He also released his "What Goes Around…Comes Around" music video about a girl he "was ready to [give] his name" that resulted in her dying in a car crash. The lyrics he used: "Tale as old as time, girl you got what you deserved."
And let's not forget the time he was inducting Madonna into the Rock 'n' Roll Hall of Fame and felt the need make it about him by saying: "The world has always been full of Madonna wannabes. I might have even dated a couple."
When it comes to Janet Jackson and the Super Bowl, the "wardrobe malfunction" was never really explained fully and it was Jackson's career who bore the brunt of the criticism for "letting it happen." Meanwhile, Timberlake came out clean and went on to become one of the world's biggest music stars. He even returned as the Super Bowl halftime performer in 2018.
Timberlake's post concludes: "I also feel compelled to respond, in part, because everyone involved deserves better and most importantly, because this is a larger conversation that I wholeheartedly want to be part of and grow from."
Apologies are necessary but they don't bring back the years she and others suffered.