Justin Timberlake Sparks Girl Scout Cookie Debate In Instagram Vid
by Valerie Williams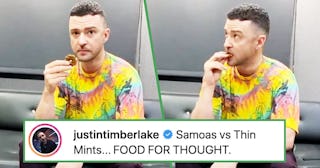 Justin Timberlake/Instagram
Justin Timberlake asks followers if they're Thin Mint fans or Samoa stans in cute vid
On this lovely Friday night, I will find myself posted up in front of a popular chain restaurant with a crew of tweenage girls, a wagon full of cookie boxes, and a gathering crowd of fans who want our product. That's right — it's Girl Scout cookie season and when I'm not doing time at one cookie booth after another, I'm watching celebs and the general public lose their minds over these addicting little treats. Even the likes of Justin Timberlake aren't immune to the charms of Samoas, Thin Mints, and Tagalongs — but it does beg the question — which is best?
That's exactly what the pop star set out to discover in a pair of adorable Instagram videos he posted"Samoas vs Thin Mints… FOOD FOR THOUGHT. Double tap for DOUBLE SAMOAS. Comment for Thin Mints," he wrote.
"You know, this one is for the Girl Scouts of America. We support you," he said in the video before taking a bite of a Samoa. "Ooh. Ooh, do we support you."
In the second vid, he decided to do a little research. "Maybe we should start a survey," Timberlake said. "I know everybody automatically thinks about Thin Mints when they think of Girl Scout cookies."
Um, speak for yourself, bud. I think of Tagalongs and only Tagalongs and no one else in my house does, so they're mine, all mine. Sorry, bikini season. Tagalong season comes first.
So Timberlake immediately outs himself as a Samoa fan, and that's cool. They're definitely in most peoples' top three because, Samoas. Someone in the room during the vid said, "I truly think Thin Mints are overrated" and another person immediately replied, "You're overrated."
People get super heated about Girl Scout cookies, you guys.
The Girl Scouts Instagram account even weighed in commenting, "Thin Mints, Samoas/Caramel deLites, Tagalongs/Peanut Butter Patties… whatever you favorite Girl Scout Cookies is, they are all PACKED with business skills and support female entrepreneurs. Thanks for supporting local Girl Scouts, Justin!!"
Ok, this is all too much cuteness for me. It doesn't get much better than Justin Timberlake shouting out the Scouts and even nailing the right flavors of cookies.