Here's The Kale Candy Canes Literally No One Asked For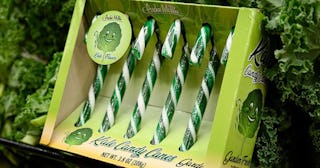 Archie McPhee
Santa Claus has something better than coal for the stockings this year — kale candy canes
With the beginning of fall comes all kinds of new holiday-themed products that make us yearn for wintertime a bit early. Those frosty mornings, that hot cocoa, fireplaces, and candy canes to rot your kids' teeth. But unless they really really love kale, like more than Alicia's kids, they probably won't want to chow down on these new candy canes because they are, in fact, kale flavored.
Covers mouth and gags.
The kale candy canes come from a novelty candy store called Archie McPhee. And if you're thinking that even though it sounds pretty gross, you're kind of a little bit curious, well, that's probably the point. The company's tagline is "We make weird" and it seems fitting in regard to this creation, that's for sure.
"When it came time for us to make a candy cane, we opted for (the) superfood kale! While this candy cane might not have the nutritional value of actual kale, it does share the delicious flavor we've all come to love," David Wahl, Archie McPhee's Director of Awesome, told TODAY Food.
But Wahl warns, this is not your average candy cane and it does not taste minty. Not one bit. So buyer beware. "We do want to warn people that the green color of the candy cane might lead someone to believe that it has a minty flavor. We wouldn't want anyone to be fooled into eating one accidentally," he said.
Definitely noted.
Yup. You heard it here. Kale candy canes are a thing. So, get 'em while they're hot. Or don't. We definitely won't blame you if you don't.
But if kale isn't exactly your jam, perhaps you'd like to try bacon, pickle or gravy-flavored canes? Because, oh yes, those exist, too.
And Clammy Canes? This is for real, folks. Clam-flavored candy. What a time to be alive (and totally nauseated).
While it's a little out there, this company is known for creating all kinds of wacky novelty food. Who could forget when they came out with the Mac and Cheese flavor around this same time last year? Clearly, people love to try this kind of stuff. At least once. Likely, once is enough.
There are also pizza and ham favors, which were released this year, too. So, if you're wondering what more we could ask for, we only have one answer: a real candy candy or five? At least to wash these suckers down with. Yeah, that sounds about right.
We'll hold onto our old-fashioned peppermint candy canes, and our breakfast. But if you're feeling adventurous, these flavored canes cost $6.50 a box. Just don't say we didn't warn you.
We may earn a commission on purchases made through links on our site.
This article was originally published on