11-Year-Old Dresses Up As Kamala Harris And The Senator Was Here For It
by Julie Scagell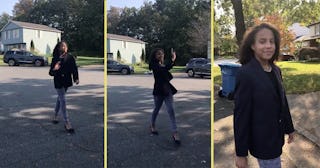 Erinn Harley/@ErinnFHarley/Twitter
The now-viral video shows Celeste playing Harris perfectly
Eleven-year-old Celeste Harley decided to dress up and play one of her favorite characters — who just happened to be Senator Kamala Harris — ahead of Harris' debate with Mike Pence. What started out as a home video she made with her mom quickly went viral, getting the attention of none other than Harris herself.
Wearing her mom's blue blazer and a pair of heels, Harley struts across her driveway, talking to her mom, Erinn Harley-Lewis, and offering some words of wisdom. "When I become vice president, I want to help all the American people. I want to deliver healthcare for all, equality and justice under the law," the little girl said while waving to a pretend crowd.
Harley-Lewis posted the adorable video on Twitter the day before the debate and it quickly went viral. "'Mom, let's play Vice President!' Grateful that my 11yr old sees herself represented on the political stage," the proud mom wrote. In the video, she can be heard playing the role of reporter, saying, "The motorcade is pulling up. The vice presidential candidate is here. Senator Harris, do you have any words for us?"
Harris even saw it and posted her own tweet, saying, "She has my vote. Tell her to keep leading."
"I had to laugh," Celeste's mom told ABC News. "Because I thought, 'Wow, she really has been studying Kamala Harris very closely, she even had that wave.'"
But seeing Harris as a role model for her daughter was an emotional one as well. "It was a moving moment for me," Hartley-Lewis told HuffPost. "When I was 11, I didn't have anybody standing on that American political stage, not at this level. So it's certainly, for me, moving history forward."
She said her reason for sharing the video was to thank Harris for being a person her daughter — and many others — can look up to. "I threw it out in the ether and thought, 'For some, one-in-a-bazillion chance that she sees this, at least I will have said thank you to her,'" Hartley-Lewis told Virginia news outlet WDVM. "That's what it was about: 'I'm grateful. Thank you for giving us a good role model ― being a good role model ― and representation matters.'"
Harris is the first Black and Asian American woman to be nominated for vice president by a major party.
Though we now know the results of that debate and got to watch Harris absolutely roast Pence on several occasions, saying repeatedly, "Excuse me, I'm speaking," the ultimate star of the show was not either candidate — but a pesky fly.
Still, Celeste and millions of other little girls got to see a true role model own the stage, and in a few short weeks, possibly see Harris take on the role of vice president.