Kamala Harris Is First Sitting VP To Take Part In Pride Event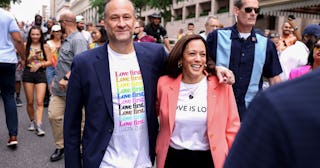 Anna Moneymaker/Getty Images
Vice President Kamala Harris joined in on the Capitol Pride Walk and Rally over the weekend with her husband Doug Emhoff
Vice President Kamala Harris had an awesome surprise for people participating in the Capitol Pride Walk and Rally in Washington, D.C. on Saturday, June 12, 2021. She joined in on the city's Pride march, becoming the first sitting vice president to take part in a Pride event.
Harris and the second gentleman, husband Doug Emhoff, joined in for about a block, waving at the crowd and talking to people around them. During her brief appearance, Harris talked about the Equality Act and the importance of getting its approval to move forward on LGBTQ+ rights. "We need to make sure that our transgender community and our youth are all protected. We need, still, protections around employment and housing," she said. "There is so much more work to do, and I know we are committed."
The Biden/Harris administration has been pushing for LGBTQ+ rights as a main priority since they took office.
Immediately, Biden restored transgender healthcare protections and removed former president Donald Trump's ban on transgender people joining the military. One of Biden's first executive orders called for gender identity and sexual orientation discrimination to end.
"Children should be able to learn without worrying about whether they will be denied access to the restroom, the locker room, or school sports," the order read. "Adults should be able to earn a living and pursue a vocation knowing that they will not be fired, demoted, or mistreated because of whom they go home to or because how they dress does not conform to sex-based stereotypes."
Both Harris and Emhoff wore T-shirts to the walk that said, "LOVE IS LOVE" and "Love first" in a rainbow of colors. Harris paired hers with a bright pink blazer. Of course, her surprise drop-in couldn't have been easy for her secret service protection in a crowd that large. Many on Twitter commended on the Secret Service guy trying to, um, blend in to a situation they may not have been entirely prepared:
The Vice President also recently observed the fifth anniversary of the Pulse Nightclub shooting. She paid tribute to the 49 people who were murdered at the Orlando gay club on June 12, 2016.
"Five years ago, 49 LGBTQ+ people and allies were enjoying an evening out at Pulse Nightclub," she wrote on Twitter. "And then, in an instant, they were gone. Today, we remember those who died and their loved ones-and we recommit to building a world free from gun violence."
It's refreshing to have an administration that supports and defends the rights of all Americans and brings legislation forward that enables people to live and work and love how they choose.