The Kardashian-West Family Shared Their 2019 Christmas Card
by Cassandra Stone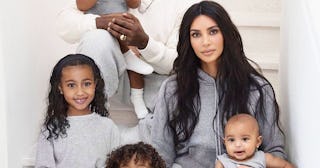 Kim Kardashian West/Instagram
All four Kardashian-West kids are featured front and center in the adorable photo
Today's the day — Kardashian-West family Christmas card day, to be exact. The family of six shared their annual holiday photo on Instagram, and all four kids look absolutely perfect in it.
The best part of this year's photo is that everyone is wearing sweats. Literally. Sure, their sweatsuits probably cost as much (if not more) as most of our monthly mortgage payments, but the fact that they're looking comfy and cozy is more aligned with the holiday lewks of the average family. And that's kinda cool to see, because this family doesn't typically do anything casually.
This is the first year to feature all four of the couple's children in a solo photo with their parents, since baby Psalm was born just this spring. Chicago is almost two, Saint is four, and big sister North is six years old already — which is kind of hard to believe? Doesn't it seem like just yesterday we were all agog with anticipation over what Kim and Kanye would name their first baby?
Furthermore, can we please talk about how stinkin' cute all of these children are? Whew. Chicago and Psalm are enough to give anyone baby fever.
Hopefully this year's card is enough to quiet the trolls, who came to shame Kardashian-West for allowing North to wear lipstick in last year's card.
Which is ridiculous, if you think about it. North probably watches her mom apply makeup (okay, let's be honest, she probably has a constant team of artists who apply it for her…but I digress) every single day. And the thing about little kids is they love doing whatever their parents do.
You might be asking yourself, "Wait, this isn't the first photo of the whole family, is it? Didn't they all get together for that adorably on-point photo as the Flintstones for Halloween?
And yes, yes they did.
But Chicago had to be Photoshopped in, remember? LOL. So technically speaking (literally, it's a technical issue), that one doesn't count. Which just makes this all-sweats, all-four-kids-included photo that much more special. We love to see it.
Of course, the entire family is made much fun every year with their holiday greetings causing fans to wait expectantly for whatever they come up with.
We have to say though, this latest version with only the Kardashian-West crew and all four of their babies is probably the best yet.