Kate Beckinsale Shares Poignant Post About Grieving Your Dad On Father's Day
by Cassandra Stone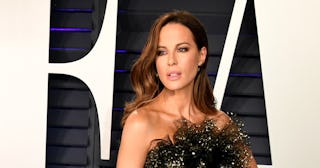 Daniele Venturelli/WireImage
Father's Day comes with a mixed bag of emotions for those who have lost their fathers
Today is Father's Day, and while many people everywhere will be celebrating and honoring their dads, for many more it's a day of mixed emotions. Especially if you've lost your father, like Kate Beckinsale did, when she was just a child. Beckinsale took to her Instagram account to share a heartbreaking message about what it was like for her — and many children — on days like today.
The actress shared a photo of herself as a little girl, standing next to her mother at her father's memorial service. Her father, actor Richard Beckinsale, died of a massive heart attack in 1979 when Kate was just five years old.
"Don't be fooled by 'children are resilient,'" she begins the post. "This is my mother and me attending the "celebration of life " memorial service for my dad. I look fine. I was shattered, heartbroken and shocked."
"Every time Father's Day comes around I remember my father with such love and longing, and I remember the deep shame, loneliness and self-loathing when I was excused from aged 5 onwards from making Father's Day cards at school," she writes. "I didn't know anyone else who had lost a parent and there was no number to call to find advice on how to support grieving children."
Losing a parent is a special kind of hell for anyone, but it's especially tragic when you experience such a profound loss as a young child. Kids don't know how to make sense of their grief — hell, many adults don't. When you don't have the vocabulary, emotional intelligence, and support that comes with age and time, losing your parent like Beckinsale did becomes a defining obstacle you spend the rest of your life trying to process.
"The amount of shame children carry for having a dead parent is astonishing," she continues. "Resources such as the National Alliance for Grieving Children (@childrengrieve) at childrengrieve.org in the US and Winston's wish at winstonswish.org (@winstonswish ) in the UK give invaluable support to kids in this position, at a time when the rest of the family are grieving themselves."
According to ChildrenGrieve.org, childhood grief remains one of society's most overlooked and least understood issues. The lack of awareness only adds to the grief children endure among their bereaved family as well. Children Grieve aims to "redefine the way our world addresses grief." They hope to educate and empower people to play a supportive role in the life of each child or teen dealing with a death loss.
Beckinsale's mother eventually remarried and it appears that she, her mom, and her stepdad are close-knit, which is wonderful.
But it's so important that on holidays like Father's Day and Mother's Day, we keep in mind that people we know who have experienced parent loss (and estrangement as well) are likely struggling. Support is key during times like this.
"Big hugs to everyone who feels like shit as this lovely holiday comes around," Beckinsale concludes. "You may not be able to buy a card. You're in the Dead Fathers Club that none of us wanted to join and yet here we all are. I'm glad we have each other. Love to you all."