This Is Not A Drill: Kate Spade Wedding Sneakers Exist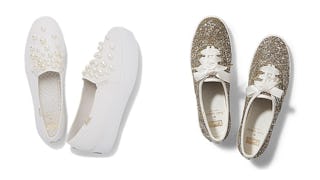 Image via Keds
Kate Spade and Keds made wedding sneakers and they're way too cute
Future brides around the world take a deep, deep death and brace yourselves. Kate Spade and Keds teamed up to create a selection of comfy sneakers for your wedding day — and they're very, very cute. Like, pearl-encrusted, white sparkles, flower gemstones cute. Your soles will thank you. Your emotional well-being will thank you. And you won't haven't to cringe during photos, while mentally picturing the amount of blood you will have to wipe off the back of your feet later. Win-win-win.
The collection boasts over 30 different styles, all designed to make you look bridal chic and completely grimace-free. The prices range from $40-$120, which is actually fairly reasonable, given the designer at hand. I mean, have you ever tried to buy a Kate Spade bag? Goodbye bank account.
Also, the shoes come in kids sizes. Also also, this is a great gift to give your bridesmaids so that they don't resent you as you quietly test all the boundaries of your friendship with horribly uncomfortable shoes while taking four hours worth of wedding photos.
If you want to add some height for your big day, go with the Triple Decker pearl sneakers. You'll look like a magnificently tall, elegant swan, without permanently damaging your feet.
You can also go for an even daintier look — and nab a pair of white flower-themed sneakers. They're fun, they're festive, and they look so comfy that you could easily use them as a cool house shoe right after. Taking out the garbage will never look so chic.
If you want to keep it really simple, you can also snag a pair of all-white, no frill sneakers. Still cute, very practical, and fully reusable.
If you're feeling a little fiesty, you can of course go the glitter route. Nothing like wearing a bunch of gold glitter on your feet to fight some serious feelings of wedding day panic.
See? Aren't you feeling more confident already?
And let's not forget about the kids wedding shoes. Because they are literally the cutest little things you will ever see. Who knew that tiny bejeweled sneakers could make your heart break a little?
Maybe your little one needs these even if there's no weddings on the horizon this year. You never need an excuse for sparkly shoes in my humble opinion.
Now go out there and have your most chill wedding ever. You'll comfortably dance the night away, and barely even notice that one relative that you secretly really hate. Win-win-win.
This article was originally published on