Mom Reunites Lost Stuffed Animal With Its Owner Through The Magic Of Social Media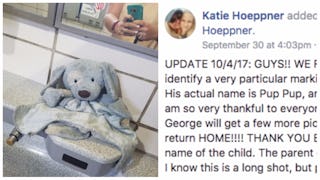 Image via Facebook
A mom's search for the owner of a lost stuffed animal went viral
For some of us it would be our wedding rings, or our phones, but for many kids, their special stuffed animal is their prized possession. Parents know this, and when one mom ran across a child's stuffed animal at an interstate rest stop, she did what she could to get it back to its owner.
Social media did the rest.
Katie Hoeppner was at a rest stop on Iowa's Interstate 80 when she happened upon an adorable little doggie lovey in the bathroom. A mom herself, she knows how traumatic the loss of a beloved stuffed animal can be, so she activated her mom powers and went all out to save the day.
"I know this is a long shot, but please share this– I stopped at a rest stop on Iowa Interstate 80 Eastbound and found this little guy in the bathroom wondering where his family went," Hoeppner posted on Facebook, along with a few pictures of the little dog.
In the absence of the stuffy's name, she christened the dog "George" and brought him home with her so he wouldn't be left at the rest stop while she searched for his master.
"'George' was my co-pilot home, wore his seat belt without a fuss, picked the music on the radio, and ran some errands with my family. I'm adding pictures to show George's endeavors and captions to go along with it," she wrote.
"As a mom, I know exactly what it's like to have a child who's frantic when they lose their Stuffy," she explained. To make George feel "at home," Katie's daughter introduced him to her own stuffed friends.
Judging by the response the Facebook post received, she's not the only one. People were ready to help, sharing Katie's post over 50,000 times in an attempt to reunite the little stuffed doggie with his rightful owner. Everyone loved watching George on his little adventure. The story was even picked up by the local news, which George watched with interest.
And wouldn't you know it? It worked! Katie shared a photo of her daughter coloring in a map to indicate all the places her post was shared, which included every US state except Hawaii, along with multiple countries around the world.
On Wednesday, Katie updated her original Facebook post to share the news that George's owner had been found, and that he was being packaged up and sent home.
It's always nice when the immense power of social media is used for good, especially when young kids are involved.
Katie harnessed Facebook to save the day for a kid who was surely beside him or herself with grief over losing her stuffed dog, not to mention the parents who were likely already on their way to buy a replacement to scuff up and pretend was the original all along.
As the owner of two young children who are obsessed with their respective blankey and WubbaNub, I know all too well the trauma of the misplaced lovey. There are times when the safety of your kids' favorite stuffed whatever seems almost as essential as the well-being of the kids themselves!
Now George's true owner will not only get him back, he or she will get one heck of a fun story to share, about her stuffed dog's travels, and about the kindness of Katie Hoeppner – and social media.
This article was originally published on