Katy Perry Shares The Heartbreaking Reason She Cut Her Hair
by Julie Scagell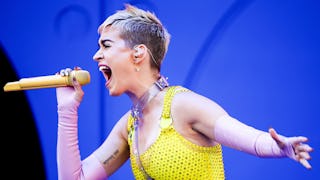 Image via Rich Fury/Getty Images
Katy Perry opens up about her struggle with suicidal thoughts
For anyone who doesn't know, Katy Perry has been promoting Witness, her new album, via a live stream on YouTube since Friday. Fans were promised four days of broadcasting and have seen everything from yoga classes, to her sleeping, to show rehearsals. One thing viewers did not expect was a front row seat to an honest and raw session with her therapist.
The record-breaking pop star broke down during a meeting with therapist Siri Sat Nam Singh, admitting that she'd been battling suicidal thoughts and wished to live a more authentic life. It was an intimate look into the struggles Perry has been experiencing, and one reason she decided to cut off her hair.
"People talk about my hair, right? And they don't like it, or they wish that it was longer," Perry said during her session. "I so badly want to be Katheryn Hudson that I don't even want to look like Katy Perry anymore sometimes, and that is a little bit of why I cut my hair."
Perry rose to mainstream success after singing in church during her childhood, initially pursuing a career in gospel music as a teenager. She has gone on to be one of the best-selling music artists of all time, selling more than 100 million records globally throughout her career.
Perry's admission goes to show that mental illness doesn't care how successful or famous a person is — and the fact that she allowed the world a glimpse into her battle says a lot about her. It shows just how strong and vulnerable she can be, which could inspire others to seek the help they need.
But Perry's biggest admission was when her therapist asked if she'd had thoughts about wishing she wasn't here anymore, Perry said yes. "I wrote a song about it," she said during the live stream. "I feel ashamed that I would have those thoughts, feel that low and that depressed. You can be right or you can be loved. I just want to be loved."
More than 300 million people worldwide suffer from depression, according to the World Health Organization. Depression can have long-lasting impacts to a person's life, including difficulty working or going to school, trouble in relationships, and if left untreated can become a serious health condition. At its very worst, depression can also lead to suicide.
According to the University of Washington, of the people who die from taking their own lives, "more than 90 percent have a diagnosable mental disorder. People who die by suicide are frequently experiencing undiagnosed, undertreated, or untreated depression." We need to stop with the stigma of mental illness and support those that need it. The more mental health issues are brought out in the open, the less stigma will be attached to it.
"I'm a bit more nerdy than everybody thinks I am. I'm a big goofball. The fantasy of Katheryn went into Katy and made this bigger than life personality." An important reminder that what a person chooses to show the world may be in direct opposition to how they are feeling inside.
If you or someone you know is struggling with suicidal thoughts, please contact the National Suicide Prevention Lifeline at 800-273-8255.