Katy Perry, Miranda Kerr, And Orlando Bloom Are All Adorable BFFs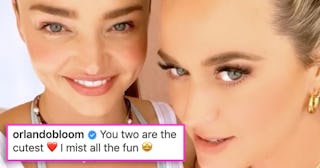 KATY PERRY/Instagram
No breakup could keep Katy Perry and Miranda Kerr from being besties
When celebrity couples break up and move on, it's not often they stay on even neutral terms, let alone good ones. But Katy Perry and Miranda Kerr are rewriting the book on that, sharing a sweet friendship even though their common thread is a man: Orlando Bloom.
In case you need a refresher, Bloom and Kerr were married from 2010 to 2013, and share a son named Flynn. Since they split, Kerr has moved on and married Evan Spiegel, and shares two more sons with him. Bloom and Perry started dating in 2016. After a few years of an on-again, off-again relationship, they got engaged last year and welcomed their daughter together, Daisy Dove.
Now, it seems there's certainly no bad blood here. Perry and Kerr just shared on Instagram that they spent a relaxing spa day together courtesy of Kerr's brand, KORA Organics. Perry shared a sweet video to her Instagram of the two women cozying up together and enjoying a facial mist—which, if it's the secret to how they're both glowing, excuse me while I order a bottle immediately.
"Spent me #wellnesswednesday with my gal @mirandakerr and @koraorganics for the very fresh & soothing #mintymineralhydrationmist launch!" Perry wrote alongside her post. "First time I did yoga since being preggers … let's just say I enjoyed shavasana okkkk."
Kerr shared the clips to her Instagram story, writing "I love you." And to show that in this case, three is not a crowd, Bloom even chimed in, leaving a comment on Perry's post with a very dad-like pun.
"You two are the cutest, I mist all the fun," he wrote.
Honestly, if every divorced-and-remarried family could coexist like this, it might just solve all of the world's problems (or, at least like, half of them). These three are nothing but supportive of one another, and you love to see it. Last year, Kerr appeared on Drew Barrymore's talk show where she just gushed about the relationship that all three have — and how happy she is that Perry and Bloom are finally engaged.
"I adore Katy, and I just feel so happy that Orlando has found someone that makes his heart so happy, because at the end of the day, for Flynn to have a happy father and a happy mother is just the most important thing," Kerr said. "I'm just so grateful that Orlando and Katy found each other, and I'm so grateful that I found my incredible husband [Evan Spiegel] and just that we all really respect each other."