Woman Convinces Husband She's 'Adopted' A Coyote, Hilarity Ensues
by Valerie Williams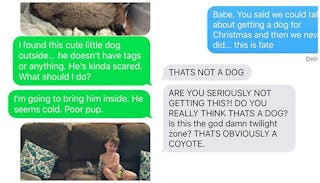 Image via Facebook
Wife's prank about "adopting" a coyote is what marriage is all about
It can be fun to spice up a relationship with a little prank now and then, as one mom learned with an amazingly hilarious series of texts to her husband about a new "dog" she decided to adopt. And by dog, we mean coyote.
Yes, you read that right.
Kayla Eby decided to trick husband Justin Bogh into thinking she'd brought a coyote into their family by telling him it was their new dog. With the help of a friend and the magic of Photoshop, she had him convinced that the creature was not only in their house, but riiiiight next to their diapered toddler on the couch.
If you're prepared to laugh yourself into next week, check out these texts. We bear no responsibility for the coffee you'll spray on your phone.
Eby starts off with a bang providing photo evidence of their new "pet."
Justin was not having it.
And this is where it gets good.
Well. Divorce might be a bit strong a word, but this is a coyote we're talking about. It might be justified, Justin. (See what I did there?)
Is it really that obvious though? Look at that little face!
We can only imagine his panic by now. Shit is getting very real for Justin and probably hysterically funny for Kayla. And that's when she went in for the kill.
OK, we honestly can't blame the poor guy for getting a little temperamental at this point. That is some really good Photoshopping.
We have a new best friend now because, four ferrets? Oh my god. This girl is the best.
Fucking Animal Planet Kayla. Dead.
Joke should probably be over now that this guy legitimately thinks his wife and son are about to become coyote food. But Kayla came to play.
It's going to be a scary ride home for Justin. And she drives the dagger in just a bit deeper before calling it quits on this epic prank.
And that was when she decided to call it a day.
Eby tells Scary Mommy that no one should be too worried about the tone between the couple as this is very regular behavior for them. "This is how our relationship has been from day one. We are both very big pranksters and have a very wide sense of humor. We respect and love each other to the ends of the earth. We just have a different way of loving each other then most."
She says, "He's always a good sport when I mess with him but he seems to have a sore spot this time around since he has calmed down and taken a second look at that photoshopped pictures and feels a little silly now. He is definitely laughing about it with the rest of us though!" Indeed, the photos are good, but they're not that good. We'll chalk it up to fear clouding his judgment.
Huge props to Eby for her genius prank. We doubt her husband will soon forget the few moments of total horror and panic his hilarious wife provided anytime soon. And we definitely won't forget the laughs.
This article was originally published on