In Defense Of Keeping Halloween On October 31st
by Amber Leventry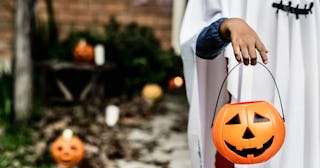 rawpixel.com/Pexels
A group of well-intentioned, but overthinking, folks want to move Halloween to the last Saturday of October instead of keeping the evening of debauchery right where it is: on October 31st. But if you ask me, that makes as much sense as having Easter on a Saturday. Everyone knows Jesus rose on Sunday the same way the Great Pumpkin arrives in the pumpkin patch on October 31st.
The official Change.com petition, started by Halloween & Costume Association, suggests that the last Saturday of the month be an alternative Halloween that would make for a longer, more relaxed, and safer holiday. The day would be called National Trick or Treat Day, and the petition has enough signatures to be taken to the White House.
You know what would make me more relaxed and my kids safer? Gun control. So how about we push for tougher gun laws before wasting time on trying to make an age-old tradition more convenient for parents who don't want to deal with late bedtimes and rough November 1st mornings.
Look, I get it. Changes in routines are tough and exhausted kids who ate Skittles for dinner are tougher. The petition lists the safety concerns for night time trick-or-treating in an effort to get support for daytime Saturday celebrations, but we all know that parents are just trying to get out of dealing with sugar-induced, sleep-deprived meltdowns.
One supporter feels strongly about the benefits of the petition:
A date change will not change the fact that knocking on doors for free candy while wearing a favorite costume and then eating said candy with abandon creates outer body experiences for most kids. And these experiences usually end in a significant crash. Last year, as I tried to get my feral kids to bed well beyond their bedtime, I didn't think to pick up the buckets of candy from the kitchen floor. An hour after barely surviving my tired children, I came downstairs and saw wrappers everywhere. The dog had eaten almost a whole bucket of candy. In my defense, I was dodging lollipop sticks being thrown at me while removing a Power Ranger costume so a kid could pee. And relax folks, the dog was fine. I redistributed candy between three buckets and no one ever knew.
Leave October 31st alone. It's rare that a kid gets to spend a holiday all day with their friends—Valentine's Day is fun for this reason too; unless you have changed that to Friendship Day, then you have ruined that holiday too. You remember the feeling of Halloween—that sense of being suspended in the excitement of the day and the traditions that take place comes with urgency too. Part of the mystery and appeal of Halloween is that it breaks up the monotony of a work/school week. It's pretty special to get through a full day of adult responsibilities to then relive your youth while watching your kids sprint door to door to snag their next treasure. Sure, it's a disruption in the schedule, but it's just one day, friends. And you get to have Reese's Peanut Butter Cups for breakfast as you commute to work.
And you know what's going to happen if this petition comes to fruition, right? My kids are going to see this as an opportunity to go trick-or-treating twice because the petition states, "National Trick or Treat Day will take place annually on the last Saturday of October so families across the country can participate in community parades, throw neighborhood parties and opt for daytime Trick or Treating."
The second I say we won't be going out on Halloween night when half of their friends will still be celebrating on the actual holiday will be the second I start sleeping with one eye open. There is no way in hell my kids would be okay NOT trick-or-treating on Halloween. And if kids are expecting candy twice, that means I need to be prepared to have candy available twice. I don't have that kind of budget or enough stretchy pants to accommodate having that much candy in the house. Sorry, kids, but it's not going happen. If you show up at my door on the last Saturday of October instead of on Halloween, I probably won't have anything for you—except a suggestion for showing up on the 31st.
I really don't know who these Halloween & Costume Association people are but their plan to "launch the #ALLoween campaign designed to support the all-day celebration of National Trick or Treat Day AND the time-honored traditions of Halloween on October 31st" must not know how fucking tired I am. The last thing any of us need is an all-day celebration of anything.
My kids have not found any shortage in their ability to make Halloween a month long celebration. By the time October 31st comes along, they will have already celebrated at our town's Park and Rec Halloween event, a Trunk or Treat in the park, or some other Halloween infused party during a random Monday in October during a hayride and pumpkin patch infused field trip with their afterschool program. My children have never managed to not have a long, fun-filled Halloween.
Besides, do we really want to add one more thing to do on a Saturday? Isn't most of America dragging their kids to a sports field or watching college football on Saturdays in the fall? If Penn State kicks off at noon or 3:30 p.m., National Trick or Treat Day just got real short, kids.
Keep your hands off of tradition. Attempts like these to make life easier just add more chaos and work for parents praying to all things sacred that their kids still want to wear the costume they HAD TO HAVE in September.
This article was originally published on