Kelly Clarkson Gets A Surprise Girl Trip And Her Response Is Everything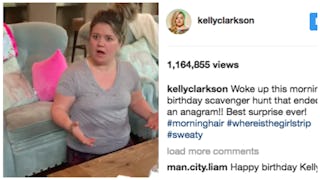 Image via Kelly Clarkson on Instagram
Clarkson is every mom finding out she is going on vacation with her friends
Kelly Clarkson is going on a girls' trip and no one in the history of girls' trips has ever been quite so excited. The singer, who turns 35-years-old today, woke up Friday morning to a birthday scavenger hunt put together by her friends. The finale was a Scrabble word anagram spelling out the grand prize — and her reaction was priceless.
"Pack your bags. Wait, what?" she reads aloud.
"We're going on a girls' trip, but we're not telling you where yet!" a friend responds back.
"WHAT?!" Clarkson shrieks, jumping to her feet. "I'm totally gonna cry!"
"That was the goal!" her friend laughs.
Her friend also mentions her sister and mom are also coming along and they are leaving tomorrow night. Gah, we adore her friends and every single thing about this video.
Who doesn't love Kelly Clarkson? She is unapologetic about her body, the first to tell it like it is when it comes to pregnancy, and does not give a shit about mom-shamers. She seems like the type of down-to-earth woman we would all want to spend time around. But like most new parents, spending weekends away reminiscing with friends sans kids is rare.
Clarkson has four kids with husband Brandon Blackstock. She is stepmom to Blackstock's two children, Savannah and Seth, from his previous marriage. The pair has two children together, River Rose, who is 2, and Remy, who just turned 1. Seriously, this woman deserves some time away.
Every mother deserves time away with her friends. My closest friends and I have been going on a trip every single year since we graduated from college. Back when we ruled the world with our Discmans and fake IDs. We had youth and hairspray on our side. We were unstoppable.
We have experienced so much since those beer-soaked days of college 20 years ago. We have rallied around each other through divorce, miscarriage, infertility, and the nuances of parenting. There have been cancer scares, pregnancy scares (back when all of us combined couldn't have changed a diaper), and a million everyday dramas. Our annual girls' trip is where we laugh, let loose, and catch up on all the details we've missed. These lifelong friendships are an anchor to the chaos of everyday life.
Clarkson sounds like she has an amazing group of friends. We are pretty sure no matter where they end up, she will be surrounded by love and a whole lot of laughter. Sounds like a most picture-perfect birthday to us.
This article was originally published on