Moms, Don't Listen To Kelly Clarkson's New Single Unless You're Ready To Weep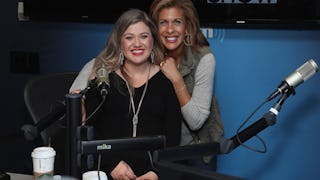 Image via Getty Images/Cindy Ord
The song is based on Kotb's new children's book "I've Loved You Since Forever"
Music legend Kelly Clarkson and TODAY Show cohost Hoda Kotb are longtime pals. So when Kotb decided she wanted a song based on her new children's book, there was only one person she felt could do it justice. And holy smokes, did she.
Kotb wrote the children's book, "I've Loved You Since Forever," about her journey adopting her daughter, Haley Joy. "This book means a lot to me because the title, in and of itself, really sums it all up. It's like when you've loved someone before you met them," she told USA TODAY. " 'I've loved you since forever' is just kind of how I felt. It's sort of like, 'I know you're sleeping under the same moon and stars as me, and one day we'll find each other.' "
The pair have been working on the project for months, leaving hints on social media. And this week the song finally debuted on TODAY. With lyrics like, "Waiting for the day our paths would cross and you and I turned into we. Oh, I've loved you since forever and forever's how long you'll be loved by me," it will have you openly weeping in public and hugging your kids a little tighter.
For her part, Clarkson couldn't be more thrilled to have been a part of such an amazing love story. "I'm so happy for you," Clarkson tweeted to Kotb. "Such a beautiful story from such a remarkable mommy for such a special little girl."
Kotb calls her baby girl "the love of my life," so it's no wonder with Kotb's love of music, her book about Haley would eventually become a song. Kotb said on the TODAY Show this week that she knew Clarkson was the only one who she wanted to collaborate with on the project. "I was thinking to myself, like, wait, that kind of seems like it could be a song. Wow, wouldn't it be cool if someone could sing the book?" she said. "There is one person I know who has a voice that is in a class by itself: Kelly Clarkson."
"Kelly is an unbelievable human being. She changed my life. This song is now part of our family history," Kotb told PEOPLE. "It's amazing that she did that for Haley and for me and for anyone that listens to it and feels like the song is about them."
The singer/songwriter has two children of her own, River Rose, three, and Remy Alexander, one.
After the song debuted yesterday on TODAY, Kotb, visibly overwhelmed, told viewers proceeds from the song will go to HelpUsAdopt.org, to help those who are struggling to afford adoption.