Kelly Clarkson's Husband Surprises Her During A Performance And We're Ugly-Crying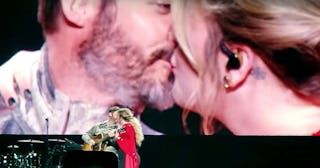 vnhalen/YouTube
Kelly Clarkson was performing a song about her husband's love when he surprised her onstage and it's the sweetest thing
Get ready to grab all the tissues you have on hand. Kelly Clarkson was performing during a stop of her Meaning of Life tour at the Bon Secours Wellness Arena in Greenville, South Carolina, when her husband, Brandon Blackstock, joined her onstage. It may not sound like an emotional roller coaster, but trust us when we say our hearts weren't ready for this.
Clarkson was performing "Piece By Piece" when it happened — a song that's famously about how Blackstone restored her faith in fathers and families after her own father abandoned her as a child. Remember what we said about the tissues? If you haven't already, now is the time to grab them, before you hit play on this video.
Clarkson was clearly surprised by Blackstock joining her onstage, because she didn't even notice at first when he took her guitarist's place to accompany her during the song. But she soon turned around and saw him, first laughing, then becoming visibly emotional.
"I can do this," she says, then picks the song back up at the chorus. When she sings about how her daughter will grow up with a loving, present father and her voice cracks, no one can even be mad. The emotion on that stage is palpable, and we're all fighting back our own tears.
Kelly Clarkson might be a national treasure today, but her life has been far from roses. She's been pretty open during her career about her difficult upbringing, including being raised by a neglectful father who abandoned her and her family when he and Clarkson's mother divorced. Clarkson was just six years old at the time.
One of Clarkson's first hits, "Because of You," was about her father. But marrying Blackstock and becoming a mom inspired Clarkson to write a more triumphant follow-up to "Because of You." And that's how the world came to have "Piece By Piece," which is a true gift of a song. This isn't the first time she's left us all in tears by performing it—she debuted the song on American Idol and there wasn't a dry eye in the audience or on the judges' panel.
In an interview with Ryan Seacrest soon after debuting the song, Clarkson opened up about her relationship with her husband that inspired the powerful lyrics.
"Watching my husband love on his daughter all the time you know, go to her events and just be there and, like, be present is hard to watch but beautiful to watch," she said. "I know that my kids are going to have that."
She continued, "I definitely didn't know it would affect me like it does when I sing it live because that's not fun. It's awesome, but it's kind of sad that so many relate to this song."
Yes, it's sad, but it's also powerful that people with similar stories and emotions can be brought together by art like this. All the more reason to love her, not that we needed it.
This article was originally published on