Kelly Clarkson's New Song Is The Woman Power Anthem We Need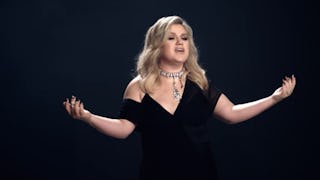 Image via YouTube/Atlantic
Kelly Clarkson's new ballad "I Don't Care About You" is empowering AF
Have you gone through a super bad breakup recently? Or maybe you've been dealing with a jerk at work who makes every day miserable? Or maybe you just got cut off while biking to the gym this morning and can't stop thinking about what profanities you should have shouted at the driver instead of inexplicably saying, "Sorry"?
Well. Kelly Clarkson has an all-in-one solution to your problems, and it's her new video, "I Don't Care About You." In the second single off of her eighth studio album, Meaning of Life, Clarkson is dressed in a black evening gown and dripping with diamonds–and she has words for whoever's been coming for you.
Did you watch it? Feeling better? Feeling empowered? Ready to kick butt? Good.
Over scenes of break-ups, work problems, and other life bummers, the inaugural American Idol winner pipes out a song that isn't so much about forgiveness as it is about forgetting. As in, she's forgetting you, forever, starting now. It's hard to pick the best burn, but it's probably right before the first chorus when she sings, "But honestly, I do it all again/Putting up with all the bullshit/He made me strong enough to do this."
Wow. Ouch. Or as Kelly would say:
At this point no one would be surprised if a new Grammy materialized at Clarkson's house that just said BEST EVER SONG ABOUT MOVING ON.
In case the searing lyrics don't make it clear enough that this song is about breaking free from the ties that bind you, Clarkson posted on Facebook about what the song means to her:
"'I Don't Think About You' is the moment you realize something has no power over you anymore," she wrote. "We all have people and/or situations in life that mold us and sometimes those situations can feel like they're about to break us, but this song is about that morning you wake up and you don't even think about it anymore. It holds no power, no weight in your world, and consumes your thoughts no longer. It's a song about freedom, honestly."
Although Alex Goldschmidt might have said it a little better:
Clarkson has withstood plenty of others' "bullshit" over the years, from mountains of body shaming to heaping servings of backseat parenting. But she's been a delight through it all. Within the last month, she's debuted as a judge on the 14th season of The Voice, where she's getting rave reviews, and she's also released another gorgeous single, this one about parenthood, called "I've Loved You Since Forever." That song will make you weep too, but kind of in the opposite way of this song. Honestly, the world needs both songs.
What? You want to see a live version of "I Don't Think About You," where she perfectly sings every single note? No problem:
And if you really, really need to get the "I Don't Think About You" message across every moment of the day, to every person that you see, you can buy the hat.