Here's The Kelly Clarkson Performance That Made All The American Idol Judges Cry Last Night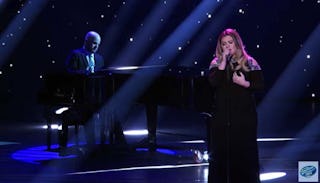 Kelly Clarkson made all the American Idol judges cry with her performance of "Piece By Piece"
Kelly Clarkson returned to American Idol last night as a guest judge to celebrate the first live broadcast of the final season of the show. An eight months pregnant Clarkson brought the judges to tears when she performed the song "Piece by Piece," about an absentee parent.
You might want to grab a tissue.
"And all I remember is your back/ Walking towards the airport leaving us all in your past/ I traveled 1500 miles to see you/ Begged you to want me/ But you didn't want to…"
So began her performance about the experience of having an absentee parent. It's clearly something a lot of people can relate to. Jennifer Lopez, Harry Connick Jr., and Ryan Seacrest were visibly moved by her performance, but she brought fellow judge Keith Urban to tears.
"He never walks away/ He never asks for money/ He takes care of me/ He loves me
Piece by piece/ He restored my faith/ That a man can be kind/And a father could stay…"
As the camera panned across the audience, there didn't seem to be a dry eye in the house. Several times Clarkson had to stop the song to steel herself.
"And all of your words fall flat/ I made something of myself and now you wanna come back/ But your love isn't free/ It has to be earned/ Back then I didn't have anything you needed/ So I was worthless…"
"You have us all in tears," host Ryan Seacrest said. "The emotion that you exude always, but especially in that important song, it's just incredible."
"Super pregnant and hormonal," Clarkson explained. "I'm pregnant, and it's nostalgic, and I can't believe it's the last season. I'm really sorry I just bawled." Clarkson wrote the song when she was pregnant with her first child. Now she and her husband are expecting a second.
It's a subject that can move anyone to tears, really. If you have children, the idea of someone leaving theirs behind is unfathomable. If you've experienced this type of abandonment those wounds never heal. And if you've experienced this type of abandonment then proceed to have children of your own, the hurt just multiplies. It's hard to love something as much as your own child and realize a person could walk away from that.
It's an applaudable feat that Clarkson was able to get through that performance at all! Hello, pregnancy hormones. One thing is for sure, that's a lucky little baby on the way.