Kevin Bacon And Kyra Sedgwick's Instagram Pics Are Relationship Goals
by Cassandra Stone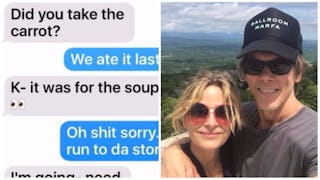 Image via Instagram
The adorable Hollywood couple is celebrating their 29th anniversary this week
When we think of inspiring relationships, we don't often turn to Hollywood to provide a how-to guide. But any couple who's been together for 29 years clearly knows a thing or two about making it work, which is one of the many reasons to adore Kevin Bacon and Kyra Sedgwick.
The glitz and glamor of being in the Hollywood elite doesn't change the fact that they engage in the exact same mundane text conversations as anyone who's been with their partner for a loooong time. When you're in a new relationship, it's all heart-eye emojis and sexy pics. It's hot and heavy and irresistible.
A few years and a few kids later, it's this:
Who among us hasn't sent a perturbed, snippy text to their partner exactly like this? Also running to the store is everyone's most dreaded task. Doesn't matter who you are.
Hollywood couples who have been together for a long time and break up often break our hearts in the process (Chris Pratt and Anna Faris, Amy Poehler and Will Arnett — we're looking at you). But Bacon and Sedgwick remain steadfastly in love after nearly three decades, which pretty much makes them the ultimate #RelationshipGoals.
They have been in love since they looked like this — '80s movie beebees. Footloose and fancy-free. 29 years is a long time, and these two are so cute.
This is like the Glamor Shots: Couples Edition of our dreams. They seem to have such a great sense of humor about their photographic history, and we are so here for it.
Kev and Kyra (we're on that kind of first-name basis with them in our minds) married in 1988 after meeting on the set of a TV movie called Lemon Sky (ooh, sounds scrumptious). They have two kids together, and basically are exactly like the rest of us.
Can we also just say we are living for their throwback pics?
It's clear that even in spite of the Carrot Text, these two are still crazy about each other based on their social media shout-outs.
OK, that's like six degrees of sweet. (And as we all know, it's not a real '80s wedding if the bride isn't wearing a high Victorian lace neckline.)
#MarriedLife looks good on them.