A KFC Fried Chicken Candle Exists, Just FYI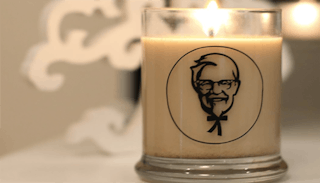 Image via KFC
The world is demanding KFC fried chicken candles, dammit
KFC New Zealand decided to have a cute little giveaway last weekend that included a few candles. They were your garden-variety home candle, adorned with the KFC logo. They didn't specifically say that they smelled like fried chicken, but come on. What else would they smell like?
"What better way to light up your nights than with a limited edition KFC Scented Candle," the Instagram post asks.
Turns out KFC grossly underestimated the general public's desire for fried chicken-scented home goods. The news of the candle quickly went viral, with people everywhere wanting to know how they could get their hands on one.
They couldn't. There was only one.
They announced a second giveaway a few days later, with a second candle. KFC — the people want their homes to smell like fried chicken, mkay? Give them what they want.
It's not like a fried chicken-scented candle would be a weird departure for the company; they've already made chicken-scented sunscreen and edible nail polish (available in both original and spicy varieties!). With news of the candle being shared thousands and thousands of times over the last few days, we have to believe that it's only a matter of time before your living room can smell like the inside of a bucket of chicken.
This article was originally published on