I Tried The New Donut Fried Chicken Sandwich From KFC And I'm Not Sorry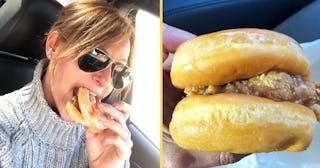 Courtesy of Katie Smith
I'm a sucker for fast food and make no apologies. In fact, while sitting at the bar a few nights ago sipping on a hard seltzer with my friend, I had to stop mid sentence during a very deep convo.
Right there, in front of my eyeballs on the big screen television I was witnessing something very magical happening: It was the new KFC donut fried chicken sandwich being constructed and I knew then I had to have it. It was distracting me like nothing had distracted me before.
I do love me some savory and sweet combinations and I knew this 'wich would take my taste buds to the heavens and beyond. I wasn't wrong.
I realize this way of eating isn't for everyone — you certainly don't have to put anything in your mouth you don't want to. But I wanted to. And I wanted it bad.
I took my three teenagers with me. They love some good fried chicken, but they weren't quite ready to delve into the fried-chicken-donut experience like their mother was. But that changed as soon as they caught wind of the fried, sweet deliciousness.
I decided it would be best to eat this puppy in the car. I pride myself on having good manners, but when glazed sauces and fried meats are involved, I can't promise I'll be able to control myself. In other words, I had a feeling things would get messy, and I knew what I'd do to this sandwich might not be fit for the public eye. So, I decided to play it safe and make out with it in my car where I could really let loose and be myself. It was the right decision. Also, thank God for wipes and the fact that I always have some on me.
I watched the woman behind the counter assemble my sandwich and I was in awe. First, she placed the donut in the container fresh out of the fryer. Then, she put the glaze on it with a squirt bottle (I've got to start keeping squirt bottles full of glaze in my house). And suddenly I wanted to bust out in song in front of everyone in line waiting for their fried bird:
So c'mon, take a bottle, shake it up
Break the bubble, break it up Pour some sugar on me Ooh, in the name of love Pour some sugar on me C'mon, fire me up Pour your sugar on me I can't get enough
Then came the piece of chicken. It was big and plump. That's when I started salivating. Next came another shot of glaze. (Oh yeah, pour some sugar on me.) Then, the second donut. Yes, folks, this masterpiece is made up of two donuts. There is no cutting one donut in half here. That simply wouldn't do.
I was bursting with excitement as I ran back to the car. As soon as I opened my lunch, all the smells hit me and my mouth began to water in a way it had never watered before.
It was warm. It was fresh. It was moist. (I know there are people who hate that word, but there's no other way to describe it.)
The donut was sweet but not too sweet. The chicken was cooked to perfection and the ratio of salt and sugar was on point. I didn't want to share it with my three offspring who were waiting patiently for their mother to hand it over.
I was shocked when my youngest practically grabbed it out of my hand. He's 13 and has sprouted to almost six feet tall with a very picky palate. His diet consists of grilled cheese sandwiches and the occasional cucumber. Getting him to try anything new is a struggle. However, he was into this and he ate it like I'd threatened to change the Wifi password if he didn't.
"I love how there's extra glaze in the container for dipping," he said. It was then I knew I'd given birth to a genius. I promptly grabbed it back and took my chicken for a dip. Why hadn't I thought about dipping it?
I loved this sandwich and so did my brain. My heart and arteries may have been a bit upset with me but I'll make it up to them. I cannot keep everyone happy all the damn time.
Would I order it again? You bet your ass. This simply can not be a one-time affair. It was warm, gooey, crispy, salty and sweet, which are all the things I look for in my food.
I'd never experienced them all at the same time in this way. I'll not only be back for more, I'll be dreaming about it in the meantime. It was that sensational.
This article was originally published on