Khloé K's 3-Year-Old Making Her Dress As A Pig For Halloween Is Relatable AF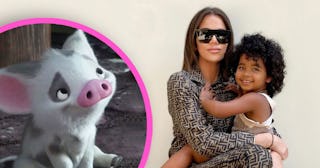 Khloe Kardashian/Instagram and Walt Disney Studios Motion Pictures
Kids don't care about your feelings. Never have. Never will
Our little ones love us, that we know. But sometimes things they say have us looking at them sideways. Khloé Kardashian is the latest victim of what should be called "bebe double takes." It should be something taught in prenatal parenting classes: "How Not To Take What Your Little Angel Says To Heart (Even When They Say It With Their Whole Chest)." In the latest such news, Khloé Kardashian appeared on Ellen DeGeneres' talk show and told the host that she's thinking twice about the costume her 3-year-old daughter, True, chose for her this year.
True is going as the Disney princess Moana, Kardashian said. And True wants her to go as Pua the pig from the same film.
Wait. What?
"So it's a little shady of her," Kardashian joked. "But that's OK. I will be Pua for True."
It's clear the proud mama dotes on the little one, as she wrote in the caption for one of her Instagram pics.
"The best part of shooting for @healthmagazine was my baby girl was able to join me," Kardashian captioned the sweet photo of her and True. "Thank you so much to the entire Health Magazine team! Not only for the beautiful moments captured forever but for also being so wonderful to work with."
The Kardashians don't mess around when it comes to dressing up for Halloween. Last year, Kardashian, True and True's papa, Tristan Thompson, wore the coolest Marc Antony and Cleopatra outfits.
Kim Kardashian West and her kids went for the timely pop culture reference, which (at the time), was as characters (and tigers) from the mega-hit Netflix reality series, "Tiger King."
While we'll have to wait until she's older for True to confirm or deny whether she meant to shade her mama, it's clear that the kiddo loves spending family time with Kardashian.
We'll start to worry if True blurs Kardashian from her pictures.