Khloe Kardashian Is Reportedly Done With Tristan Thompson For Good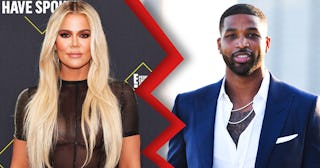 Scary Mommy and Rodin Eckenroth/George Pimentel/Getty
This is not the first time Khloe Kardashian's boyfriend Tristan Thompson has been accused of cheating
Khloe Kardashian and Tristan Thompson have called it quits again. According to E!, after another round of cheating rumors, she is reportedly done. This time, it seems it's for good. This comes just months after the pair talked about expanding their family.
While neither has spoken publicly about the split, reports allege that the basketball player and father of the couple's three-year-old daughter, True, was spotted entering a bedroom with multiple women at an event hosted by Drake over the weekend that took place at a mansion. Another source told Daily Mail that, "Tristan took off into one of the party rooms where everyone goes to hook up" with the women and another man. "They stayed in the room behind closed doors for at least 30 minutes. When he arrived, his shirt looked all pressed and when he came out his shirt was a mess, he looked disheveled."
E! News's source alleged that "Tristan was hanging out with Drake, Diddy and Chris Brown the majority of the night. He was seen hanging out with several girls on the upstairs deck and then went into a private room with three girls. He seemed like he was in a great mood and wanted to party. He was drinking and was partying into the early hours of the morning."
Unfortunately for Kardashian, this is the third time his cheating has gone public. In April 2018, he was accused of cheating when she was pregnant with True, but the pair reconciled. Then, early in 2019, he was seen kissing sister Kylie's best friend Jordyn Woods. Kardashian ultimately went back to him again.
During the final season of Keeping Up With The Kardashians, it seemed the pair were deeply in love and Kardashian talked about moving with him to Boston for this upcoming NBA season. "I know the growth and all the work that he's done, I know all of the help that he's gotten and the constant efforts that he makes every single day and how hard he fought to get back with me currently," she said during the finale. "I mean, you can ask everyone, it really wasn't an easy thing for him. I don't understand why someone would go through all that if they weren't serious."
It's difficult to see her continue to try to work on their relationship and have him blatantly disrespect his partner and mother of his child. While it's an extremely personal decision whether to work through continued bad behavior or separate, this may be the final straw for Kardashian.
"They had been working through the cheating rumors for the last couple of weeks, but Khloé told Tristan he lost all of her trust and the relationship could not be repaired," the E! source continued. "Khloé really tried, but ultimately, felt too betrayed by him. She's done and says she will not go back."
While neither have commented, Thompson did post a tweet Monday that could indicate he's denying the break-up rumors by posting blue cap emojis on Twitter, the emoji equivalent of "cap" aka essentially saying something is a lie. Time will tell whether they are officially over.