My Kid Has Cancer, And I Don't Want To Take Care Of Him
by Diane Windsor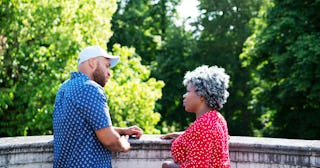 Tim Robberts/Getty
During the 2020 holiday season, my husband and I pretty much kept everything low key. We didn't attend big parties with friends and neighbors; we didn't celebrate with my 80-year-old stepmother. The goal this year was safety. So we hung out, ate some good food, and watched some old movies.
In the 54-plus years that I've been on Earth, I have never watched the Rocky movies. I posted this fact on Facebook as we watched the first film in the franchise, from 1976, and all of my high school friends were stunned. I liked it, and we kept going with Rocky II through Rocky Balboa. Last night, we watched Creed – this is where Rocky trains Apollo Creed's son to be a prize fighter. And in this movie (sorry for the spoiler, but it's not a huge giveaway) Rocky gets cancer.
I hate the way cancer is portrayed in entertainment. The patient is sitting in a chair with an IV, they may or may not have hair, and then in a few months they're cured. There's even a show on Netflix that is geared toward children about leukemia. It's happy. The patient is doing well. She's going to school, nervous about her medical appointments, but everything works out just fine.
It doesn't always work out just fine.
My son was diagnosed with acute lymphoblastic leukemia in 2018 when he was 20 years old. This is a pediatric cancer, so he was treated at a children's hospital. He went through various treatments – Plan A, Plan B, and Plan C. We thought Plan C was working, but guess what? It wasn't. He relapsed in October, 2020.
I remember seeing a meme on Facebook once that said, "Anything your parents do for you after you're eighteen is out of pure love." We don't have to take care of our adult children. We're not legally obligated. But, really, who the hell wouldn't take care of their child who is battling cancer?
We spent so much time in the hospital. The two of us. Days – weeks – months. I slept in the room; I cooked food for him, so he didn't have to always eat hospital meals; and I ran to the grocery store when he wanted a bottled Frappuccino.
Wouldn't you? Wouldn't any mother who loves their kid? If I don't do it, who will? It's my job as a mom to take care of my child as he fights for his life.
And, believe me, it doesn't matter how old a patient is – anyone battling cancer absolutely must have an advocate by their side to figure out all of the administrative shit. Dealing with doctors, schedulers, insurance companies, billing departments, and so much more. There are a lot of grants and private donations available for cancer patients, but somebody has to do the work to find them, and then apply for them.
I just really, really don't want to do this again.
I have a life – I have a job, a husband, other children, and grandchildren. And I really don't want to drop everything I'm doing – again. I've done it all once before.
But if I don't do it, who will?
People always ask, "Let me know if there's anything I can do," when they hear about this second diagnosis. "Your son's cancer is back? Oh my god! Let me know if I can do something!"
I'll tell you what you can do:
Check In With The Family
I get it – you don't know what to say. You may have some older family member who died from cancer, but when it strikes a child or young adult, you have absolutely no clue what to say to them. That's okay – all we want is that you're calling to say hello, and ask how he's doing. And, of course, ask how the rest of the family is doing. We're all affected – parents, siblings, everyone. And we would love to hear from you – often!
Send Food
I don't feel much like cooking on a good day. When I'm worrying about my son's cancer treatment, planning meals is the last thing I want to do. So, please, send food! You don't have to cook – plenty of stores (Costco, Whole Foods, Kroger) have "heat and serve" style meals. I would be thrilled to have a meal dropped off at my house, and to say hello to a dear friend or neighbor.
Set Up A GoFundMe
Cancer is so expensive, even if you have insurance. When my son was first diagnosed in 2018, I took a two month leave of absence from my job, and I wasn't paid during that time. I know parents who need to travel far from home so their child can receive the best treatment, and they're simply not able to work. Right now, we're traveling to MD Anderson in Houston for treatment, and we need to pay for lodging every time we're there. In this regard, I'm lucky. As long as I have my laptop, I can work anywhere. For many people, this isn't the case. And they're unlikely to share their financial hardships with people. If you're close to a family who is struggling with a childhood cancer diagnosis, setting up a GoFundMe is an excellent way to encourage an entire community to support them.
I don't want to do this again, but you know what? Neither does my son. But I'll be by his side, until he wins this fight.