This Kid Stole His Mom's Credit Card And Flew To Bali For Vacation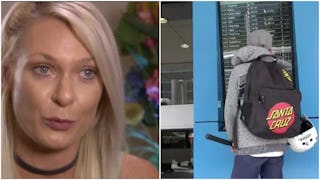 Image via A Current Affair
An Australian boy stole his mom's credit card and headed straight to Bali
Buckle up, because this is about to be a truly nightmare ride for parents everywhere. A 12-year-old Australian boy stole his mother's credit card, left home, and ran away to Bali. Yup, Bali. Great vacation choice, horrifying decision making.
So, how does a young boy go about flying across the globe alone? Well, turns out it was actually pretty easy. First off, the kid — who was given the pseudonym Drew by 9News – got into a big argument with his mom. He then stole her credit card, grabbed his passport from his grandma, and packed his bags. He booked a "cheap deal" to Indonesia, used self-service at the airport, and wasn't hassled at all throughout his trip.
"They just asked for my student ID and passport to prove that I'm over 12 and that I'm in secondary school," he told 9News.
Once in Bali, Drew checked into the *four star* All Seasons Hotel and told the staff that his sister would be arriving soon. He then spent four days on his own. "It was great," he said. "I wanted to go on an adventure." Meanwhile, his mom was completely, completely freaked out. She had figured out that Drew hadn't made it to school on the first day, and then had to fly out to Bali to collect him. During an interview with A Current Affair, she said that she was "shocked [and] disgusted" by the turn of events. She also said he "doesn't like the word no," alluding to their argument that led to his little overseas adventure.
"There's no emotion to feel what we felt when we found he left overseas," she said. Literally feeling all the sympathy pains for this mom right now. All of them.
When asked how in the world this young child was able to fly on his own without parental permission, the Australian Federal Police told CNN that there hadn't been a travel alert placed on the boy. Also, they do not have the authority to cancel passports if the person doesn't have a criminal record.
"The AFP will work with partner agencies to review the circumstances of this matter and current operating procedures, to ensure this type of incident does not occur again," the police added.
Yup, I'd certainly hope so. From now on, a Bali vacation can only happen if it's a family trip, the kid is 18+, or you're having your own solo Julia Roberts Eat, Pray, Love moment.
This article was originally published on