Parents Encouraged Kids To Burn Masks In Front Of Idaho Capitol
by Kristine Cannon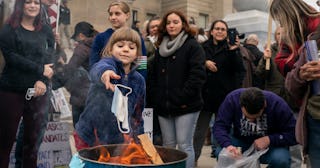 Nathan Howard/Getty Images
"Here, fire, you hungry? Here's another mask," a child was overheard saying
On Saturday, about 100 demonstrators gathered outside Idaho's Capitol in Boise for an anti-mask rally. And while no one was arrested and the organizers had permits, one scene has Idaho State Police — and Twitter — alarmed. At the event, a fire was started, and at that fire, parents were seen encouraging kids to toss face masks into the fiery barrel. The protest follows public health experts recently re-stressing the importance of wearing a mask.
In the clips shared on Twitter, kids are seen throwing what appears to be brand-new face masks into the fire as grown-ass adults applaud them.
"Destroy them. They're death," one kid is heard saying.
"Not all at once!" a man also shouts as kids grab face masks by the handful and toss them into the fire.
"Smell the freedom, baby," another adult says.
"Mask burning is our new book burning," tweeted epidemiologist and health economist Eric Feigl-Ding. "Parents teaching their kids to burn masks in Idaho is peak 2021 right now… SMH."
The "Burn The Mask" rally, which saw about 150 attendees, was held to push back against local mask mandates, which demonstrators claimed violated their personal freedoms.
In Idaho, while the governor has not issued a statewide mask mandate, several counties and cities in the state, including Boise, have mandates in place. And while the rally was under review for starting a fire, according to NBC News, Forbes reports that several politicians were not only aware of the burn barrels, they encouraged participants to bring masks — and for those who didn't own any masks, printed copies of proclamations and executive orders related to mandates — to burn at the dozens of burn barrels set up around the state.
"It should be great," said Republican state representative, Rep. Dorothy Moon. "So far, I think there are about 50 burn barrels set up around the state for people to get involved."
"Dear mask burning folks in Idaho: Rejecting science is not anti-elite; it's not owning the libs; it's just plain stupid," tweeted Congressman Ted Lieu, representing California's 33rd Congressional District in the United States House of Representatives. "The virus spreads through respiratory droplets. Masks help prevent the spread. Masks help save lives. You are putting your family at increased risk."
Earlier this week, the Centers for Disease Control and Prevention (CDC) released a report that showed mask-wearing was linked to fewer COVID-19 infections and coronavirus-related deaths in the U.S.
"Mandating masks was associated with a decrease in daily COVID-19 case and death growth rates within 20 days of implementation," the CDC states in the report published March 5.
The CDC adds that allowing on-premises restaurant dining was associated with an increase in daily COVID-19 case growth rates and an increase in daily death grow rates.
"Mask mandates and restricting any on-premises dining at restaurants can help limit community transmission of COVID-19 and reduce case and death growth rates," they state.
"I know the idea of relaxing mask-wearing and getting back to everyday activities is appealing, but we're not there yet," said CDC director Rochelle P. Walensky during a White House Covid-19 response team briefing on Friday.
Walensky urged Americans to "double down" on prevention measures.
"We have seen this movie before. When prevention measures, like mask mandates, are rolled back, cases go up," Walensky said, later adding that while there's a light at the end of this tunnel, we "must be prepared for the fact that the road ahead may not be smooth."
"And that is within our control," Walensky continued. "By continuing to wear masks and following CDC's public health recommendations, while we get more people vaccinated, we can bring this pandemic to an end."
In other words, continue wearing — not burning — that face mask.