You're Going To Want All These Adorable Looks For Your Kids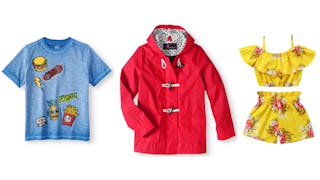 Walmart
It never fails — if a mom sets out looking for something for herself, she will come home with three bags full of stuff for her kids. Maybe this is because kids never stop growing, or maybe it's because they have super-cute clothes and buying jeans for ourselves is basically our worst nightmare. Either way, we've found some of the cutest kid styles, and bonus, they are all totally budget-friendly!
Here are our favorites, must-haves, and OMGs why don't they make these in our size?
Note: Prices reflect store website at time of publication and are subject to change.
This floral satin bomber jacket is giving us all the adorable feels.
ON SALE for $37.46 (originally $49.95)
If you give your kid this LEGO Movie hoodie, we promise, everything will be awesome!
Floral print leggings with a cold shoulder tunic? Yes, please! When did our kids become more stylish than us?
This adorable tunic set is just $14.22.
Need a lightweight zip-up for your little man? This one is perfect for those chilly spring mornings.
I'm sorry, did you say velvet high top sneakers? OMGYES!
ON SALE NOW for $12 (originally $39.95)
French fries, lightning, and skateboards! OH MY!
This RAD shirt can be yours for $6.34.
Florals are so on-trend.
Grab this 2-piece set for your mini for $14.22.
These flat front chino shorts are a must for little boys.
Get these for your little cutie for just $17.95.
Why is this floral halter and short set not in our size?
This pocketed burnout tee is where it's at.
Bring home to your little one for $6.34.
Camo, because sometimes dirt just isn't enough.
Make your boy happy for $8.26.
Can't you just see your little girl happily splashing in puddles wearing this adorable rain jacket?
This boys denim jacket is perfect for your rough and tumble little guy.
It's OK if you had no intention of buying kids' clothes today. We didn't either, but our carts are totally full!
We may earn fees from purchases made via links on this page and affiliated sites. All opinions are our own.
This article was originally published on