Got A Birthday Party This Weekend? Here's Your Cheat Sheet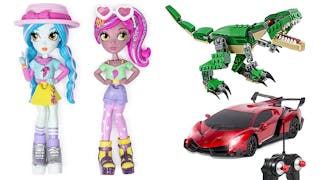 Images via Amazon/Walmart
Having a litter of kids means lots of things—shoes are all over the place, there are never enough snacks, and there's a birthday party every other Saturday. If you want to go the gift card route, no judgment here. But if your kid is bound and determined to find "the perfect toy!" for their kindergarten friend, here are a few sure-fire hits most kids love that won't cost you a non-vital organ.
Note: Prices reflect retailer pricing at time of publication and are subject to change.
Vivian and Mila sure do look different from the Raggedy Ann and Cabbage Patch Kids we played with, but that's what kids want these days. These adorbs BFFs can mix and match hairstyles, clothes, and shoes, and come with surprise accessories in each package (because if your kids can't unbox every single toy they receive, are they even living in the 21st century?)
Price: $12.99
One obsession that never seems to die is kids' love for Pokemon. That's why this 4-inch Funko POP! Bulbasaur—is as one of the hottest toys of 2019 so far.
Price: $10.99
Nostalgia is in, folks. And old school games like Jenga, Twister, and Battleship are still popular for when you need your kids to turn off the screens and actually engage in some real-life human interaction.
Price: $8.55(originally $11.56)
The Classic Magic 8 Ball is another toy that most parents will remember. Will it be a hit with your kid's friends too? All signs point to yes.
Sale Price: $8.40 (originally $8.97)
L.O.L. Surprise! dolls still reign supreme in kid-land, making this #Hairgoals surprise box a win for any L.O.L. lover in your life.
Price: $15.99
Kids love Legos. And kids love dinosaurs. That means this Lego Creator Mighty Dinosaurs set will be a birthday gift hit—we promise. Just don't leave any pieces on the floor for Mom to step on, okay kids?
Price: $11.99 (originally $14.99)
What kid wouldn't want to get their hands on these Hulk fists? If your kid is obsessed with Marvel Avengers and all things action heroes, you can bet their friends are too.
Sale Price: $16.90 (originally $19.99)
Scratch-art is a favorite for kids, and this Melissa & Doug box of rainbow mini-notes is no different. Any child would love to scrawl "You're my BFF" or "Keep out of my room!" on these adorable little papers for their friends and annoying brothers to read.
Price: $9.00
This easy-to-use Nerf blaster is a great gift for kids who love to battle it out in their basements or the backyard. Throw a new package of darts along with this Strongarm in a gift bag, and you're officially the birthday kid's fave.
Price: $12.99
Parents, you know this song isn't going away anytime soon. So if a book like this will make a squirrelly toddler sit still for five minutes, it's worth it. Just make sure to grab some headphones for yourself.
Price: $19.99 (originally $24.99)
The '80s keep coming back! Why? Because they were awesome. So show today's kids just how awesome by gifting them their very own classic Lite Brite.
Price: $13.89 (originally $14.97)
We know toddlers love to copy Mom and Dad, and you'll want them to pitch in and help soon enough, right? So how about their very own super cute "sink" with dishes where they can practice a chore that will someday consume their days as boring old adults?
Price: $14.97
Okay, parents. Here's a compromise. You want them off screens. They want to play Fortnite. So how about Fortnite Monopoly? It's a win-win!
Price: $12.99 (originally $19.99)
Even our pals from Hogwarts are in on the unboxing trend! This gift is a mystery wand—the birthday child won't know which one they've received until it's opened. Draco's? Hermione's? VOLDEMORT'S?! It's all part of the fun, because remember—the wand chooses you.
Price: $12.88 (originally $13.88)
Here's another gift that will get tweens and teens off their phones and looking at each other—to read lips! The Hearings Things game is for ages 12 and up and will be sure to get your kids and their friends laughing.
Price: $18.88 (originally $19.99)
There's not a preschool parent out there who doesn't know Chase, Marshall, and Rubble and the Paw Patrol song—they'll be there on the double! We all know it and hear that song in our sleep. This Zuma's Hovercraft toy is the perfect gift for any Paw Patrol lover, which really means all preschoolers everywhere.
Price: $12.99
This Remote Control Lamborghini is a steal for under $20, and it gets kids away from screens and outdoors. One thrilled parent says, "It's a great car! Our son has run it into everything. He's flipped it. He's built ramps for it. It is a fast and sturdy car."
Price: $14.99-16.99 (available in red & silver)
It's not a 2019 toy list if it doesn't include poop slime, right? So here's the latest, hottest choice for kids—a soda can fun of unknown surprises that poop and spit slime. If you give this gift at a birthday party, you're sure to please the birthday kid. Their parents? Well…
Price: $14.99
So there's our list, folks—options for any type of kid from toddler to tween, all under twenty bucks. We do recommend bringing a bottle of wine or a 6-pack for Mom and Dad though if you gift their kid slime, something that sings, or a toy with 200 tiny pieces. Trust us on that one.
We may earn fees from purchases made via links on this page and affiliated sites. All opinions are our own.
This article was originally published on