This Kid's Sex Ed Book Might Leave You With More Questions Than Answers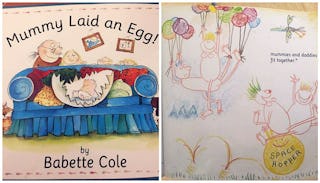 One mom's routine trip to the doctor's office turned totally awkward when her kids found an illustrated sex-ed book
There are many things to avoid in the waiting room at the pediatrician's office. The chair by bathroom, where you can hear everything that's happening on the other side of the door. The toys that are probably covered in germs. Any child with a runny nose. You'd think reading to your kids while you wait is probably a safe bet, but for London mom Katherine Peck, grabbing a children's book at the doctor's office lead to lots of questions she hadn't planned on answering just yet.
Peck's children, four-year-old daughter Adem, and eight-year-old son Ayla, grabbed the book Mummy Laid An Egg: Or Where Do Babies Come From and asked her to read it to them. As Peck explains on Facebook, what sounds from the title like a playful, child-friendly explanation of the birds and the bees is actually more like a cartoon sex manual.
Let's take a look.
"All began routinely enough, with 'sugar and spice and all things nice' and such," says Peck, "But I was ill prepared for the most sudden U-Turn on Page 6, where we're introduced to Daddy's friendly looking 'seed pods'!"
Still, these stick figures aren't all that different from the drawings kids come home from school with, right? Moving on.
Nope, that line wasn't written in by some smartass teenager. It's actually part of the book. Just in case kids are confused as to what goes where during sex, they're making it very clear. Transparency is good when explaining things to kids, right?
What the hell is happening right now? Why does this kids' book have clown porn in it? And who would ever have sex on a skateboard? The entire board is the size of one of my butt cheeks. That's just unrealistic.
"I slammed the book shut when I got to the clowns,"Peck told The Mirror. "But then I had to go on. I went back to it."
Let's just say the clowns got into some interesting positions.
Here we see the reason why your child will never want to use his hobby hop ever again, and what exactly is going on with those balloons? Some sort of helium BDSM? I'm so confused and wouldn't even begin to know how to explain this to a child.
"Cue the four billion questions I hadn't planned answering today," said Peck.
Here's pregnant mom, with an ALL CAPS reminder that she's getting FAT.
And here's the result of all that space hopper bouncing.
Peck is a sex education teacher at a school for children with special needs, so even though she wasn't expecting the plot of this book to go the way it did, she handled the situation like the professional she is. "I'm not disturbed, it's hilarious really," she said. "But I'm just not sure what I make of it."
The late Babette Cole was a well respected children's author, and her unconventional book is a surefire way to open up the conversation about sex with our kids, which is always a good dialogue to have. Still though, sex clowns?
Just in case you're wondering, there's an American version of the book as well: Mommy Laid An Egg. But if you're going to attempt that skateboard move, maybe stretch first.
This article was originally published on