Want Your Kids to Love Baseball as Much as You Do? Play It Cool.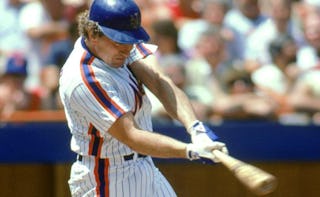 "I think out of all the seasons," my daughter said to me from the back seat as we drove home from school, "baseball season is my favorite."
I kept my eyes on the road and tried to play it cool. It was hard not to show just how exciting that sentence was to me.
RELATED: The Best Baseball Gloves For Kids Who Want To Have A Ball
I never wanted to force my kids to love baseball the way I love baseball. My dad never did that to me—a love for baseball was something he let me develop on my own, and then when I did, he helped foster that love in a number of ways. He took me to games. He taught me to keep score. When I had to go to bed on school nights before the games were over, he would leave me notes with the game results to read in the morning—even more important when my beloved Mets were playing late into the night on the west coast.
So I never forced the game on my daughters. But they've certainly grown up watching a lot of baseball. So I think it's fair to say that with each Opening Day in their short lives, they've picked up on my excitement for the new baseball year ahead.
This, though, was the first year one of them—my 8-year-old, to be specific—voiced her excitement unprompted by me.
When I was 8, the Mets won the World Series. They haven't won since.
In fact, along with the hope that every Opening Day brings—that this year will be the year the Mets win their first World Series since 1986—the past few years have brought a bit of sadness mixed in with all the Opening Day nostalgia.
My favorite player was Gary Carter. He was the catcher on that championship Mets team, the man who personified hope on Opening Day by hitting a game-winning home run in his first game with the team in 1985. Carter helped cement the championship he was brought to the team to win in that 1986 World Series. He was the reason I was a catcher in Little League, and I learned about the business of baseball as I grew up and watched him finish out his Hall of Fame career as an "old man" with the Giants, Dodgers, and Expos after his Mets career ended. It's amazing to think this year I turn the age he was when he was considered too old to be an effective Major Leaguer.
Carter died way too young in February 2012. He was a couple of months shy of his 58th birthday. Before he was diagnosed with the brain cancer that would quickly kill him, Carter was building a successful resume managing Minor League and college baseball teams, hoping to one day make it back to the majors as a manager. He never got the chance.
So that's why I watch Opening Day each year, as coaches and managers whom Carter played with and against take their spots on the baselines during pre-game introductions, with a little bit of sadness mixed in with that hope and happiness. I think about how I'll never get to see my boyhood hero back on a Major League field, unlike so many of my peers who rooted for a player and now see him take on another challenge in the latter stages of his life.
But I guess hope wins out as Opening Day approaches.
Because as I continue driving, I think about all my 8-year-old still has to experience as a baseball fan.
With any luck, this will be the Mets' year, and she can experience the joy of a championship at the same impressionable age I did.
I know for sure I'll fill her in at the breakfast table about the parts of the games she missed because she had to go to bed on a school night.
I'll take her to games and I'll teach her how to keep score.
And you better believe I'll tell her all about Gary Carter.
This article was originally published on