Kim Kardashian Posts 'Drivers License' Breakup Song Video After Kanye Divorce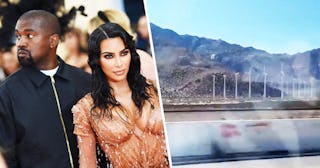 Dimitrios Kambouris/Getty and Kim Kardashian/Instagram
Kim Kardashian listens to viral breakup anthem 'Drivers License' after filing for divorce from Kanye West
Kim Kardashian recently filed for divorce from Kanye West, and though she hasn't spoken publicly about the end of her marriage, she seemed to communicate some feelings to fans online when she shared a clip to Instagram featuring Olivia Rodrigo's "Drivers License," also known as the viral, and deeply melancholic, breakup tune that you've probably heard all over TikTok.
On Instagram Stories, Kim shared a video as she drives through the desert (her mom Kris Jenner owns a home out there) while the sad sounds of "Drivers License" play. She captioned the video with a cryptic series of hearts and the knife emoji.
Lyrics to the song include: "All my friends are tired of hearing how much I miss you/ But I kinda feel sorry for them/ 'Cause they'll never know you the way that I do."
"Today I drove through the suburbs/ And pictured I was driving home to you/ I know we weren't perfect but I've never felt this way for no one/ And I just can't imagine how you could be so OK now that I'm gone."
Though the song was written and performed by 18-year-old Olivia Rodrigo, the Gen Z tune has transcended generations — with everyone falling for the sad breakup ballad's emotional Taylor Swift-esque storytelling.
Kim filed for divorce from Kanye on February 19, 2021 after six years of marriage and E! News reports that they have an amicable joint custody agreement in place, though the kids have primarily been living with Kim in Los Angeles, while Kanye appears to be living in Wyoming at the moment.
A source also told E! News that the split was a gradual growing apart, and that they spent enough time trying to "make it work" before realizing it wasn't going to work out.
"She gave it plenty of time but it's just time to move on," the source said. "There were no affairs. No one did anything bad. They grew apart."
A separate source tells People that Kim has been spending time with her sisters and that she is a little "disappointed" that she and Kanye couldn't make their marriage work.
"There is no drama between Kim and Kanye. Kim is mostly just disappointed that they couldn't figure out how to stay married," says the source. "But it takes two people to create a happy marriage. Kim has felt Kanye is not willing to do the hard work and compromise."
"Although Kim and Kanye have been separated for months, it was still emotional for Kim to actually file for divorce," the source added. "She spent the weekend taking care of herself and her kids. She is spending time with her mom, sisters and hasn't been working. Everyone is supportive. Kim feels very lucky to be surrounded by her big family."