Kim Kardashian Gives Birth To Baby Number Two
by Valerie Williams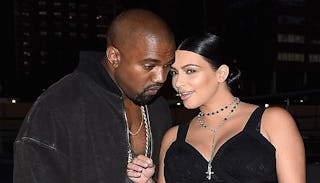 Image via Getty Images/Michael Loccisano
Lots of excitement for the Kardashian-West family as Kim Kardashian gives birth to her second child with husband Kanye West! It's a boy and according to Kim's website, both mother and baby are "doing well." It was a long road for the couple to conceive their son and the pregnancy itself was full of difficult moments they candidly shared with the world.
The couple has yet to release their new baby's name or any other details of the birth. They teased throughout the pregnancy that they might go with another "direction" name, such as Easton. According to People, they did promise not to name him South, but Kim admits Kanye wasn't feeling Easton, so the name is a total mystery at this point. Kim even gave People the most brilliant quote on the topic saying, "I don't think we'll go another direction." We see what you did there, Kim. Loving it.
This pregnancy was a little rough on Kardashian from a health standpoint as she told C Magazine in September, "They think I'll have placenta accreta again, so if the placenta grows a little bit deeper than it did last time, then they are prepared to have my uterus removed, which is a little scary for me."
According to Mayo Clinic, placenta accreta is "a serious pregnancy condition that occurs when blood vessels and other parts of the placenta grow too deeply into the uterine wall." It can result in severe blood loss during delivery and as Kim described, the placenta attaching to the uterus resulting in removal of the uterus. It sounds terrifying and no details have been released on whether she had her uterus removed after her son was born.
Not only was this pregnancy scary for Kim's health, it was also hard for her body-image-wise with the star admitting she felt "fat as fuck." Her baby was also breech for several weeks but fortunately, successfully turned as the result of a painful external cephalic version. According to People, it took IV medication to relax her uterus and the aid of three doctors manually turning the infant into the proper position. Kardashian said, "They don't give you any pain medication, and let me tell you: This was soooooo painful. Probably more painful than childbirth."
All those obstacles aside, getting pregnant in the first place was a struggle for Kim and Kanye with the stars sharing their difficulty in conceiving their second child. After several months of trying and the discovery of severe uterine damage requiring surgical repair, the couple became pregnant after their second round of IVF. Being so open in their quest to become pregnant again was very generous of them as many celebrities don't share that kind of information with the public. In true Kardashian fashion, Kim shared the highs as well as the lows.
Overall, this pregnancy sounds like it had many unpleasant moments for Kim and Kanye but the important thing is the arrival of their son and Kim's health. The initial statement from the couple indicates all is well, so hopefully, the delivery was uncomplicated. We're sure we'll learn more details in the coming weeks but for now, a sincere congratulations to Kim, Kanye and North on becoming a family of four!
This article was originally published on