Kim Kardashian Files For Divorce From Kanye West
by Kristine Cannon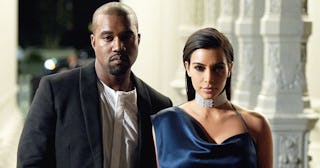 ason Kempin/Getty
After nearly seven years of marriage, the couple has officially called it quits
After much speculation, Kim Kardashian has officially filed for divorce from Kanye West after nearly seven years of marriage. According to People, "things are amicable," they're in agreement over joint legal and physical custody, and neither is contesting the prenup.
According to AP, sources confirmed that Kardashian filed for divorce in Los Angeles Superior Court, though the filing was not immediately available.
The couple started dating in 2012 and shortly after had their first child, North, in 2013. It wasn't until May 2014 that the pair married in Italy at a Renaissance fortress in Florence, Italy, following West's widely publicized proposal where he used a giant screen at the empty waterfront ballpark of the San Francisco Giants.
Kardashian and West would have three more children, Chicago, now 3 years old; Sant, now 5; and Psalm, who will turn 2 in May.
The divorce filing announcement follows reports in January that Kardashian was working with divorce attorney Laura Wasser. At the time, sources confirmed to People that Kardashian planned to file for divorce from West.
"They are just not on the same page when it comes to their future as a family," a source said. "And Kim is OK with it."
Fast forward more than month later, and the reports were apparently true.
The announcement also arrives just hours after internet sleuths took a magnifying glass to Kardashian's latest Instagram post, which consists of a trio of photos and a caption that reads, "Plant based does a body good." While that might seem innocuous and innocent, people pointed out that, in the last photo, she's very clearly wearing her wedding ring, leaving them to believe this was Kardashian's way of debunking divorce rumors. And while a valiant effort, turns out they were all wrong.
Of course, news of their split might not come as a surprise to many. Remember back in July when West gave a bizarre speech during his first campaign rally (yep, that really happened) in South Carolina? And remember he broke down in tears while telling attendees that he and Kardashian considered abortion when she got pregnant with North?
"Even if my wife wants to divorce me after this speech, she brought North into the world even when I didn't want to," he said. "She stood up and she protected that child."
And that only scratches the surface of West's unpredictable, erratic behavior.
In July, West also wrote in a now-deleted tweet that he had "been trying to get divorced since Kim met with Meek at the Warldolf [sic] for 'prison reform.'" West's referring to a criminal justice summit attended by Kardashian and rapper Meek Mill in November 2018.
The couple tried to work on their marriage, spending time in Wyoming in what appeared to be a very emotional reunion. They then flew to the Dominican Republic with the kids to, as People reports, "work on their marriage."
"Now this divorce is happening because Kim has grown up a lot," the source told Page Six. "She is serious about taking the bar exam and becoming a lawyer; she is serious about her prison reform campaign. Meanwhile, Kanye is talking about running for president and saying other crazy shit, and she's just had enough of it."
This article was originally published on