Kim Kardashian Rents And Furnishes Childhood Home For Mom's Birthday Surprise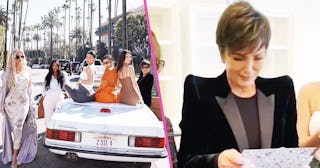 Kim Kardashian/Instagram
Grab a box of tissues, because Kim Kardashian's birthday gift to mom Kris Jenner might make you bawl
Here you are, just minding your own business and going about your Wednesday when along comes Kim Kardashian with such a heartwarming surprise for Kris Jenner's 64th birthday that you're feeling all the things.
You knew when you saw Kardashian's Instagram post that you should probably keep on cruising. But instead, you stopped. You pulled in. And so we say to you, welcome to this emotional cul-de-sac. Go ahead and pull your parking brake — we'll be sitting in these feelings for a while.
ICYMI, Jenner celebrated another circle around the sun on Tuesday, Nov. 5. Since she has a whole gaggle of adult children who make bank, you knew something special was in store for the matriarch-slash-momager. But, really, no one could have predicted Kardashian would gift her mom with the one thing money can't really buy: memories.
Kardashian took to Instagram on her mom's special day to share the sweet surprise. "Today we celebrate my mom. Anyone that knows her, knows how sentimental she is," Kardashian started, explaining that she invited Jenner's kids and her closest friends of 40+ years out for a birthday lunch. Only, they wouldn't be dining at the lunch venue the original invitation indicated.
A video attached to Kardashian's Instagram post shows her tell the group of women gathered, "Our lunch is not at the Beverly Hills Hotel today. So, open up your invite to see where you're going."
It didn't take long for the truth to dawn on everyone, including a now-crying Jenner. "I then gave everyone the REAL invitation and once everyone saw the address for where we would be going tears filled the room. I rented our childhood home," Kardashian revealed. "All of our memories live here, especially with our dad. It's where each Kardashian child was born and made us who we are."
Kardashian even went so far as to recreate the "most ridiculous wallpaper and kitchen set" they had in the home growing up. "We had lunch at the home as if it hadn't changed and we cried the entire time," she wrote.
But the surprise didn't end with lunch. The KKW Beauty founder somehow tracked down every car ever owned by her parents — Jenner and late ex-husband Robert Kardashian, who passed away from esophageal cancer in 2003. "I had some waiting outside so we could drive them to the house and the rest were lined up in the driveway of the house exactly how my parents used to have them parked," said Kardashian, hilariously pointing out that she remade her mom's exact 2 DIE 4 license plate.
Kardashian managed to keep it a secret from her mom and all of her siblings for weeks as she planned it out, a feat nearly as impressive as the gift itself. The secrecy was obviously worth it in the end, though, with Kardashian calling it "the best day ever." She even kept her emotions in check during what was undoubtedly a super-emotional day.
Which, TBH, is more than we can say for us right now. Some sort of hot, wet drops keep falling out of our eyeballs. As you can imagine, it requires attention. And by attention, we clearly mean having too much chocolate and calling our moms.