Kim Kardashian Is Elle Woods For Halloween -- And She Nailed It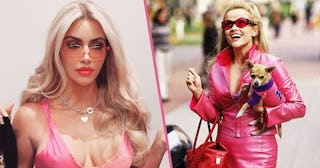 Kim Kardashian/Instagram and MGM
Kim Kardashian's going as Elle Woods for Halloween, even recreating her iconic Harvard admissions essays
If your Halloween costume doesn't come with a 360 degree multi-media component, did you even DO Halloween? Kim Kardashian goes all out each Halloween but this year she really outdid herself. Perhaps to honor her own unexpected and recent path into law, for Halloween 2019, Kim is going as Elle Woods from Legally Blonde.
Early on October 31, 2019 Kim shared pics of herself as Elle Woods marching in for her first day at Harvard Law and she even recreated Elle's iconic "Harvard Video Essay" submission. Does Kim's "acting" in the video essay leave something to be desired? Sure. But the commitment to the Halloween costume is A+.
"Oh, Hi, I'm Elle Woods and for my admission essay I'm going to tell all of you at Harvard why I'm going to be an amazing lawyer."
For the costume, Kim found a fuzzy pink pen and even a small dog to play Bruiser.
The best part? Kim got the ultimate seal of approval from the one and only, Reese Witherspoon.
Reese reposted Kim's video and simply captioned it, "Elle Woods forever."
Oh, and don't forget that Kim is literally going to law school IRL too. In California, it's legal to study the law privately so Kim is studying on her own — with the help of real life lawyers — and she'll take the California State Bar alongside all the other law school graduates in a few years.
"My weekends are spent away from my kids while I read and study," Kim explained back in April. "I work all day, put my kids to bed and spend my nights studying. There are times I feel overwhelmed and when I feel like I can't do it but I get the pep talks I need from the people around me supporting me. I changed my number last year and disconnected from everyone because I have made this strict commitment to follow a dream of mine – It's never too late to follow your dreams."
To round out the full Legally Blonde aesthetic, as Elle Woods would say, "What? Like, it's hard?"