Kim Kardashian Gets Mom-Shamed For Letting North Wear Red Lipstick
by Cassandra Stone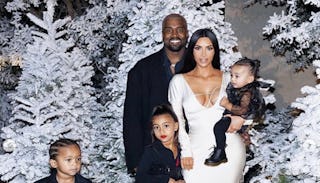 Image via Instagram/Kim Kardashian West
Five-year-old North West rocks a bold red lip in her family's latest photo shoot
Kim Kardashian recently shared the images from her family's holiday card photo shoot on her Instagram account. The entire family was all decked out in formal wear, and five-year-old North West can be seen wearing red lipstick.
That's all it took for the internet comment section to blow up, shaming Kim for allowing North to wear makeup.
RELATED: The Best Play Makeup Sets And Toys For Kids Who Are Too Young For The Real Thing
Kim Kardashian is, arguably, a polarizing public figure who many people have many opinions about. Which, fine. But attacking her for allowing North to wear lipstick seems a little harsh, no?
Think about it. She probably watches her mom apply makeup (okay, let's be honest, she probably has a constant team of artists who apply it for her…but I digress) every single day. And the thing about little kids is they love doing whatever their parents do.
As the mother of a three-year-old little girl myself, I know she's fascinated when she watches me apply my not-even-remotely Kardashian-level-five-minute face. She wants to wear what I'm wearing — from the mascara to the brow powder to my lipstick.
That's what they do. It's normal, and it's really not a big deal. Except the commenters on Kardashian's post don't seem to understand that.
WHEW, right? Goodness gracious.
You don't like children wearing makeup? Fine. Don't put any on yours, then. But to take it to the level of "she'll probably lose her virginity at 7" is beyond despicable. Come the f*ck on.
Not everyone attacked her for North's makeup — some people thought the little girl looked fabulous. And in true Kim Kardashian fashion, she responded to supporters by hinting that the lip color is part of a new makeup line.
And also, North's own little fashion choice.
It's not like Kim didn't know she was opening her family up for criticism by posting these photos — especially when it comes to the North's lip color. She knows what she's doing. And whether this makeup decision is strategic or simply because North, like many other kids and young girls, likes to play with it — who cares?
Let girls live.
This article was originally published on