Kim Kardashian Shared Pics Of Her Psoriasis And It's Relatable AF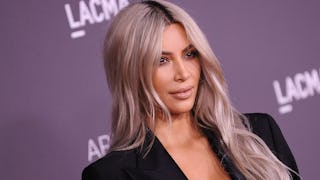 Image via Jason LaVeris/FilmMagic/Getty Images
Kim Kardashian West opening up about her psoriasis is so refreshing
It seems like Kim Kardashian West has it all – unfortunately, "all" includes the chronic skin condition psoriasis. Along with 125 million people around the world, Kardashian suffers from the sometimes painful and embarrassing rashes – but she does it with honesty, grace and humor. Her latest posts on Instagram about her battle are relatable both to others who have the disease and to anyone who struggles with a chronic medical condition.
The reality television star took to Instagram on Monday night to share a few selfies that depict exactly what it's like to go through a psoriasis outbreak, and she managed to do it in a way that showed both her pain and frustration as well as her positive attitude.
"Psoriasis is the shits!" She joked in the first picture that she shared to her Stories, followed by a crying-from-laughing emoji.
In the second picture, she clarified that the treatments on her face were an herbal ointment.
Finally, she showed a picture of her legs, which is where her body has been most affected by the rash. "Sexy," she wrote about the red spots, as she pulled up a towel to show them off.
Psoriasis is a skin condition likely involving the immune system in which skin cells build up more quickly than they're supposed to, creating red, scaly, itchy patches. Some people only have isolated patches, while others might have body-wide outbreaks. It's believed to be a genetic condition (it can't be passed to others) that appears in young adulthood. Although there isn't a known cure, treatments can minimize the issue, relieve itching, and shorten outbreaks.
Outbreaks can be caused by colds, stress, or injuries.
Kardashian was diagnosed with the condition in 2011, and the experience was captured on her reality show, Keeping Up With The Kardashians. At first she thought it was ringworm, but it turns out it was the beginning of a battle that has been getting worse over the years.
At the time, she was worried about how the diagnosis would affect her life.
"When the doctor tells me I have psoriasis I have heard of it before because my mom has always had it but my mom didn't have red flaky dots all over her," Kardashian West said on the show. "My career is doing ad campaigns and swimsuit photo shoots. People don't understand the pressure on me to look perfect. Imagine what the tabloids would do to me if they saw all these spots."
She's been open about her struggle since the beginning. She's shared her emotions on the subject on Twitter and Instagram as well as her journey to find treatments that work for her, from light treatments to detox smoothies to celery juice.
Then in 2018, she reached out for more help. "I think the time has come I start a medication for psoriasis," she wrote on Twitter. "I've never seen it like this before and I can't even cover it at this point. It's taken over my body."
"I have that one patch on my right leg that is the most visible," Kardashian West said in a post on her app, which has since been taken down. "I don't even really try to cover it that much anymore. Sometimes I just feel like it's my big flaw and everyone knows about it, so why cover it? After this many years, I've really learned to live with it."
Currently, she uses a cortisone lotion before bed to help treat it, along with her natural treatments.
But while she's learning to live with it, things are still hard. Last week, the Daily Mail called her out for having a "bad skin day" and Kardashian shot back explaining it was her skin condition flaring.
Even then, she was open and honest both about her condition and how she felt about it.
Other than a few gossip rags, the response to Kim's struggle, and her attitude about her condition, have been overwhelmingly positive.
Here's to celebs (who we all too often assume are perfect) opening up about their struggles, imperfections, and battles.
This article was originally published on