Kim Kardashian Shares First Glimpse Of New Son In Adorable Instagram Post
by Elizabeth Licata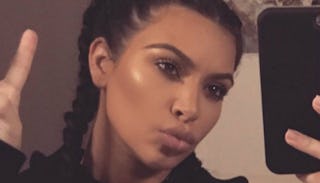 Kim Kardashian's new photo proves North West loves being Saint's big sister.
Say what you will about the Kardashians–and a lot has certainly been said, both good and bad–but they certainly seem to be a tight-knit family. Sisters Kourtney, Khloe, Kim, Kendall, and Kylie all seem very close to each other, and to their mother, Kris. They're lucky to have such a tight familial bond, and it looks like they're carrying that closeness on into the next generation, because Kim just posted an adorable photo of her new son Saint West gripping the finger of his big sister, North, who has already declared him to be her "best friend."
Kardashian posted the new photo to Instagram, and it shows Saint's little hand grabbing tight on to North West's very slightly larger finger.
"She said, 'He's my best friend.'" Kim captioned the photo.
There are few things cuter than the way new babies grab people's fingers with their little hands, and this photo is certainly evidence of that. It's rare that Kardashian posts a photo–even of her children–that does not garner nearly as many insults and attacks as it does likes, but this one appears to have met with only approval from the notoriously cruel and critical commenters on Kim Kardashian's Instagram. It seems like there's just not much to get upset about in a close-up photo of two babies' hands.
Most of the comments seem to be along the lines of:
"IK OMG so cute"
"This makes my heart melt"
"But where is SAINT I wanna see him!"
Little Saint West's face has not yet been revealed to his anxiously awaiting public, but he's probably adorable. If he's half as cute as North West, the first reveal of his tiny baby visage will surely send waves of "Awwwws" to break out all the way across the Internet. Until then, it's pretty heartwarming to see how eagerly North West has taken to her new "big sister" role.
It makes good sense that North would be so excited about being a big sister, because she's growing up around a lot of people united by what seem to be very strong sibling relationships. Not only has she seen her mother with her aunts, but she's very close with her cousins. Kourtney Kardashian's children–Mason, Penelope, and Reign–are the best of friends too, and they are constantly photographed playing adorably with little North. Living close to family has its benefits, and the cousins seem as close as siblings. Now North isn't the baby of the family anymore. Now she's a big sister, just like her mom and her cousins, and it sure looks like she's loving it.