Kim Kardashian Just Shared The SWEETEST Photo Of Her Sons
by Julie Scagell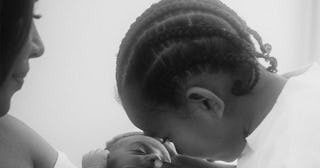 Kim Kardashian/Instagram
Saint and Psalm already look tight
Kim Kardashian and Kanye West's kids are about as adorable as they come. The newest member of their family is no exception — and this picture of him with his older brother will give you all the feels.
Kardashian shared the sweet pic on Instagram next to the caption, "My boys." In it, baby Psalm is getting all of the love from his older brother, Saint, who is staring right into his gorgeous little face and clearly enjoying his status as the bigger brother. Our entire hearts.
https://www.instagram.com/p/By0WG_jg4yM/
Please take a moment to recover from that assault on your ovaries. It's simply too much sweetness in one photo. Siblings are really something special, and this is quite a moment to capture between two brothers.
Kardashian, who became a mom of four when Psalm was born, usually waits to share photos of her super cute kids until they are a bit older. Her third child, baby girl Chicago, made her debut on Kim's Instagram over a month after her birth, but it was clearly worth the wait.
The couple has a lot to be thankful for — their four kids, North, Saint, Chicago, and Psalm have made them a (very busy) family and allowed them to realize a dream they've held for many years. "It's madness, but the best madness," Kardashian told The New York Times before baby Psalm was born.
"My mom would always say about having kids: 'One is like one, and two are like 20.' I never really understood that until now," Kardashian said after son Saint was born. "When I had North, all I did was feed and sleep. This time around, I get no sleep. Every waking second that I'm not with the baby, I'm with North. I actually think the harder parts aren't with the newborn but with the toddler! I feel like I go into overdrive to give my daughter attention and make her feel loved."
Not only will the siblings have each other, but a whole lot of cousins to share their lives with — and with all of the kids being so close in age, you can imagine how lovely it will be to have built-in playmates throughout their childhood.
The mom and businesswoman shared the first pic of baby Psalm a few weeks back, giving fans a glimpse of him up close and personal and announcing his name. Seriously, could he be any cuter?
Kardashian has always shared pics of her kids with the world, posting an equally heart-melting photo on Father's Day of West with two of their kids next to the caption, "Happy Fathers Day! You are the best daddy to our kids!!! We love you so much!"
Feel free to keep sharing pictures of your ridiculously beautiful family with the world, Kim. We're extremely here for it.