Kim Kardashian And Kanye West Are Expecting Their 4th Baby
by Thea Glassman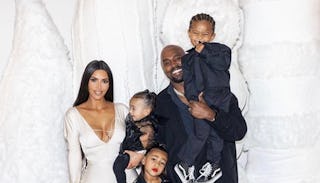 Image via Instagram/Kim Kardashian West
Kim Kardashian West and Kanye West are reportedly expecting a baby boy through a surrogate
There's about to be another Kardashian to keep up with. PEOPLE confirmed that Kim Kardashian West and Kanye West are expecting a child through a surrogate. This will be their fourth kid, which is very exciting news for them and also exciting news for all of us in the peanut gallery (so, so many more cute baby pix on Instagram).
The couple will be having a baby boy via a surrogate mother, according to US Weekly. It's been a little less than a year since they welcomed their third child Chicago through the same surrogate, and the Kardashian West family is truly bursting with all the cute babies (seriously – have you seen the Christmas card??)
It sounds like this baby has been in the works for quite some time. "Kim and Kanye were already talking about baby No. 4 when Chicago was just a couple of days old," an insider told PEOPLE. "And they absolutely would use the surrogate again. They love her."
Suffice to say, lots of people were OVERJOYED by the news. They took to Twitter to celebrate starting the new year with a brand new Kardashian.
Kardashian West, who gave birth to North (5 1/2) and Saint (3), has been candid about her difficult, complicated pregnancies. She opened up to ELLE back in 2017 about having placenta accreta, a potentially fatal condition that occurs when the placenta is embedded too deeply in the uterine wall.
"After giving birth, your placenta is supposed to come out. But mine was stuck," she said. "That's what women usually die from in childbirth — you hemorrhage and bleed to death and they can't stop it. To get it out — it's so disgusting — the doctor had to stick his whole arm in me and scrape it off. It was the most painful."
And that wasn't all. Kardashian West also experienced "debilitating" pain during one of her pregnancies, went to the doctor, and was told that she had had a miscarriage. Thankfully, the doctor found the baby's heartbeat the next day. The reality star later told ELLE that she was relieved to have her third baby through a surrogate (though, of course, it was an emotionally complicated process).
"I hated being pregnant," Kardashian West said. "But as much as I hated it, I still wished I could have done it on my own. The control is hard at the beginning. Once you let that go, it's the best experience. I would recommend surrogacy for anybody."
All the Mazel Tovs to the whole Kardashian West fam. Here's to so, so many more years of extremely adorable mini-Kardashian content, like this true gem below.
This article was originally published on