Kim Zolciak Posted A Pic Of Her 6-Year-Old In A Booster And The Internet Attacked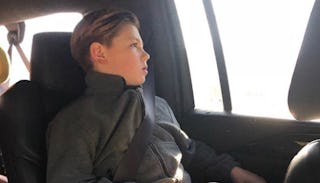 Image via Instagram/Kim Zolciak
When it comes to booster seats and keeping kids safe in cars, it's super important to know your facts (especially before you sound off on Kim Zolciak)
Real Housewives alum and reality TV personality Kim Zolciak-Biermann has had her fair share of drama on the air, but a bit of a dust-up over a picture of her son, Kash, sitting in a booster car seat wasn't standard fare. While some moms chided the television star for having her six-year-old kid in a booster that was too small, others had her back, saying he was properly strapped in according to experts.
Who was right? The kid's mom, of course.
It all started yesterday, when Zolciak-Biermann posted a picture of her son riding in her car.
"My baby @kashbiermann on the way to school this morning! He is such a BIG BOY he is only 6 he melts me his heart is unreal #HairKing," she wrote, unaware she was about to spark a debate.
Within minutes, parents were chiming in to scold her for having a "too-big" kid in a booster seat.
"Kim he is too big for that booster. But I love him," one follower wrote.
Another was more direct: "He too damn big for that seat and u know good and well my sis."
Then started the counterattack of people who dropped some booster seat knowledge on the critics.
"Can't believe all these people are on you about the booster. State law is 4'9" in height or 9 years old. Do they even have kids? Or follow laws? Beautiful child and yes, great hair," said one.
"He may meet the weight limit but booster also help with the positioning of the seat belt," chimed in another.
So, who's right and who's wrong? According to Safe Kids Worldwide, the most important consideration is that the lap and shoulder belts fall in the correct places: "The seat belt must lie flat across your child's chest, on the bony part of the shoulder and low on the hips or upper thighs."
Most kids need to ride with a booster until they're between 8 and 12 years old, though at Kash's size (his dad, Kroy Biermann, if you didn't know, is an NFL player) he might graduate from the booster a little earlier than some of his peers.
"Y'all know I don't play when it comes to my babies," she said on an Instagram Story post, which included a list of booster seat requirements.
She also linked to a helpful video.
Of course, one commenter did spot a booster seat safety issue that is worth mentioning:
"Did anyone point out that the lap belt doesn't seem to be routed properly? It should go under the armrests :)"
Good point.
A few more tips? Regularly weigh and measure your older kids so that they're traveling in the the safest manner, because kids can grow fast. And make sure that your child is mature enough to sit in the right position in their booster or seat for the whole ride.
This article was originally published on