A 'Balls Voyage' Party Is The Only Way To Celebrate A Vasectomy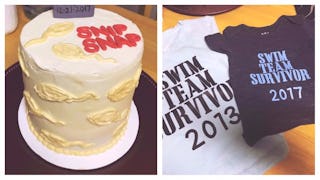 Image via Kimberly Hemperly
This wife really went "balls to the wall" for her husband's vasectomy
Facebook is full of parents sharing celebratory pregnancy images, birth announcements, milestones, etc. One mom took "celebratory" to a whole new level when she shared photos from the special party she threw for her husband. Not just any party — a "Balls Voyage" party.
In honor of his vasectomy.
RELATED: How Much Does A Vasectomy Cost, And How Does It Compare To Getting Your Tubes Tied?
Kimberly Hemperly recently shared the news on her Facebook page, and OMG. She left no stone unturned with this little "party."
"We have an announcement to make," Hemperly wrote. "We are thrilled to say we will NOT be adding anymore tiny humans to our family! My husband is taking one for the team and to celebrate this momentous occasion I felt the need to throw him a little 'Balls Voyage' party for his upcoming procedure. Because omg y'all nobody is more excited about this than me. #teamnomorebabies #snipsniphooray #recreationaluseonly."
Can we all agree the phrase "snip snip hooray" needs to start trending as a catchphrase posthaste? As for what inspired this epic, balls-to-the-wall shinding, it's simple.
"After our second came along in July, we decided we were done," Hemperly told Scary Mommy. And I had two c-sections so he volunteered to go under the knife so I wouldn't have to again."
Hemperly says she knows not a lot of men are gung-ho about going in for a vasectomy willingly, so she wanted to make her husband feel special. She said she wandered around the grocery store one night, looking for anything "balls or sausage related" (as one does), and worked with a friend to make the amazing cake.
Gotta love this woman's attention to detail, amiright? This is the kind of "Pinterest-inspired" party a lot of us can actually get behind.
Hemperly said the party was a complete surprise for her husband. "He thought it was thoughtful and hilarious," she said. Just look at these custom "swim team survivor" shirts — these pretty much the definition of thoughtful and hilarious.
Hemperly says she wasn't expecting the post to go viral, but she's glad many people have found humor in it. And who wouldn't? Come on. It's a fairly non-invasive, 20 minute outpatient procedure that puts men out of "crotchal commission" for a couple of days max. In my opinion, it's the least our partners can do for us — especially after we've delivered their children. Which sure AF isn't a 20 minute, non-invasive, outpatient procedure.
"The majority of the feedback has been great," she says. " And that's what I was going for. I just wanted to show some support to my amazing husband for going thru with such a selfless act."
This article was originally published on