Hero To Fellow Senators: 'If We're Not Helping People We Should Go The F**k Home'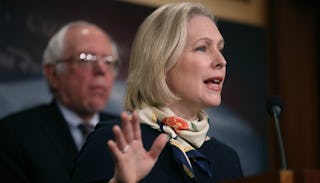 Via Justin Sullivan / Getty Images
"Just run for the office you want to run for and run on the issue you want to fix"
Senator Kirsten Gillibrand (D-N.Y.) is exactly the kind of woman we all need in Congress.
In a political climate that's more about across-the-aisle fighting than it is about making meaningful change, Gillibrand is sticking to the reason she ran for office in the first place — a worldview she says she shares with some of those she's supposed to be fighting, like Republican Senator Susan Collins of Maine.
"I know Susan's worldview is similar to my worldview. Which is that we're here to help people, and if we're not helping people, we should go the fuck home," Gillibrand said in a new profile in New York magazine.
Gillibrand also spoke about the camaraderie she experienced among other women in Congress, and how it took plenty of help from her female colleagues to pass her 9/11 health bill.
"To pass that bill, I first went to my female colleagues and said, 'How do I do this? I have no fucking clue,'" she said, adding that those colleagues had just the advice she needed: "'Listen, if you pay for it this way and not that way, they can't say no. If you hold the vote, they'll have to vote yes.' They were whispering in my ear the whole time."
But what may be the most inspiring thing about Gillibrand is the way she's working to get more women to run for office. Her political action committee, Off The Sidelines, is dedicated to getting women the money they need to win elected seats.
Off The Sidelines is Gillibrand's call to action to girls and women who want to make a difference, according to its site. It provides money to women who want to close the gender gap, secure mandatory paid family leave, and tackle other issues that could make the world a better place for women.
"Because when women embrace the fact that their voices matter — with their vote, with their advocacy, and even with their candidacy — they can make all the difference," the site reads. "Whether by changing the nature of the political debate, registering to vote and holding elected leaders accountable at the ballot box, supporting candidates who share your values, or even running for office yourself, YOU can make a difference."
In the last five years, Off The Sidelines has raised nearly $6 million to help women run. Couple that with the amazing advice Gillibrand gave to New York magazine.
"It doesn't matter if you haven't worked your way up," she said. "The guys run every time. I can't tell you how many 30-year-old dudes believe they should be senator or president. Women, we're like, 'Well, maybe after ten years of working…' No. Just run for the office you want to run for and run on the issue you want to fix."
H/T Refinery 29