CNN Slams Kirstie Alley On Twitter After The Actress Downplayed COVID Deaths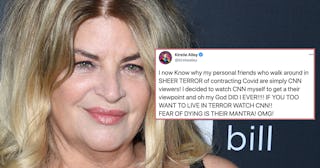 Steve Granitz/WireImage, Kirstie Alley/Twitter
The actress was told not to 'downplay' the loss of nearly 230K lives
And the most unexpected Twitter spat of the year goes to — drumroll, please — Kirstie Alley and CNN. On Friday, the actress took to Twitter to slam CNN's coverage of COVID-19, writing in part that "fear of dying is their mantra," and CNN responded in the most savage way possible.
"I now Know why my personal friends who walk around in SHEER TERROR of contracting Covid are simply CNN viewers! I decided to watch CNN myself to get a their viewpoint and oh my God DID I EVER!!!!" Alley wrote, then switching to all-caps mode. "IF YOU TOO WANT TO LIVE IN TERROR WATCH CNN!! FEAR OF DYING IS THEIR MANTRA! OMG!"
CNN's PR Twitter account then swiftly served her a sick third-degree burn.
"Kirstie, you are welcome to change the channel – just like countless viewers did every time 'Veronica's Closet' came on TV," they wrote. "But don't downplay the loss of nearly 230K American lives. And please, wear a mask."
For those who never watched, Veronica's Closet was an NBC sitcom that had a three-year run in the late '90s, from 1997 to 2000.
It didn't end there, either. Alley hit back with, "Meow …if only you paid as much attention to Joe Biden's alleged corrupt business dealings as a TV show that was rated top ten in 1997….. guess you got that wrong too."
As of this morning, Alley's initial tweet has amassed more than 23,000 retweets and more than 74,000 likes. CNN's tweet received 14,000 retweets and more than 105,000 likes.
While some defended Alley, others, like Walter Shaub, former director of the U.S. Office of Government Ethics, weren't having it.
"You should be ashamed," he wrote. "We're one of the hardest hit countries because irresponsible science-denying fools like you don't care about hundreds of thousands of Americans who've died or millions who are sick. Do you ever reflect on how many deaths you personally may have caused?"
Another posted an image of his wife who contracted COVID-19 and was intubated. She has since recovered.
"It's not fear, it's our reality," @james_r_p_ll wrote. "This is my wife in Dallas 8 months ago when Fox and Trump were downplaying the virus. She spent 5 days in a coma. Thankfully, she somehow survived but doesn't want to do it again. So, thanks to dumb comments like this, she can't leave the house."
Alley recently made headlines for voicing her support for Trump re-election, saying she supports him because "he's not a politician." She endorsed Trump in 2016, too.
"I'm voting for @realDonaldTrump because he's NOT a politician. I voted for him 4 years ago for this reason and shall vote for him again for this reason," she tweeted. "He gets things done quickly and he will turn the economy around quickly. There you have it folks there you have it."
Of course, the tweet was met with swift backlash, to which Alley responded, "guess I'm not allowed to have a viewpoint without being called a really nasty names."